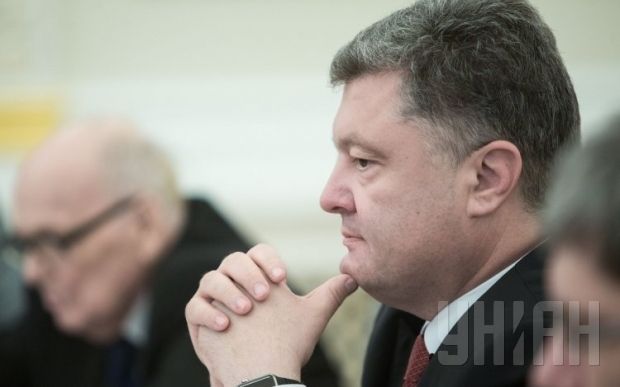 UNIAN
"We need an effective and coordinated plan in case of the failure of the Minsk agreements. We are talking about a new wave of sanctions, and well-coordinated actions. Russia should pay its costs for the killings of Ukrainians and for the occupation of Ukraine. It should be held responsible for this," the president said.
Also at a meeting with a delegation from U.S. Congress, Poroshenko said that the delegation's visit to Ukraine on the eve of Independence Day of the U.S., as well as the OSCE PA meeting was a strong symbol of strategic partnership between the two states.
"We are grateful for the effective coordination of our efforts in the implementation of the Minsk agreements and in ensuring international unity and solidarity with Ukraine, where the United States plays a very important role," Poroshenko said.
"The support Ukraine has been receiving all this time in the military, technical, finance and security fields, as well as moral support is very important because it plays a key role for unity, defense of our values, democracy from one of the world's strongest armies," the president said, adding that "the most important thing for us today is the unity of the world, and without the United States such unity would be impossible," he said.
The head of state stressed the commitment of Ukrainians to the European choice and noted his intention to reform the country.
"We are a European nation. The Ukrainians have the right to live in Europe, to implement democratic standards and protect their values," the president said.
Poroshenko also thanked the U.S. for training Ukrainian military on the Yavoriv training ground.
"I believe that this program is very effective to improve the level of our armed forces, and it is useful not only for us but also for the U.S. because we have gained unique experience in conducting military operations within 'hybrid war,'" Poroshenko said.
The president also stressed the importance of further deepening of the military cooperation, in particular in terms of strengthening Ukraine's defense capability.
The U.S. congressmen for their part assured that their country paid considerable attention to developments in Ukraine. In particular, they noted the powerful legislative initiatives regarding Ukraine, in particular the adoption of the Ukraine Freedom Support Act, the press service reported.
The meeting was attended by U.S. Senator, Co-Chairman of the U.S. Helsinki Commission Roger Wicker, and congressmen Robert Aderholt, Steve Cohen, Gwen Moore, Richard Hudson, and Michael Fitzpatrick.