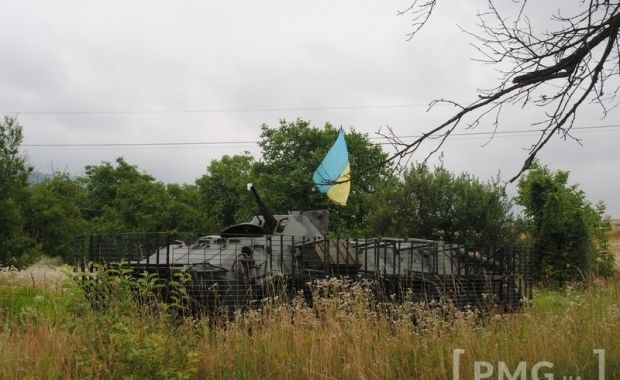 Right Sector fighters are still at large after Mukacheve conflict / pmg.ua
In an interview, also available on the ministry's website, the boy says that the Right Sector fighter approached him (apparently the boy was not alone) and offered cookies and candy. "We refused. Then, he opened his bag and took out chocolate and candy, anyway," the boy says.
As the law enforcement officers arrived, the fighter pulled him closer [the boy shows how he was hugged around his shoulders]. "Then, he pulled out a grenade and yelled at the police officers to get back a hundred meters back," the boy added.
It becomes apparent from the interview that the fighter took the boy along with him as he was moving in the opposite direction from the law enforcement officers. "We were going through the woods. Then, near "Zvezda" he let me go. My feet were tied, he fled, and I started untying myself," the boy said.
According to the boy, the police officer came to him. "I started crying, ran back with the police officer, we were walking and then crouching, as these men could return. Police officers brought me [to a safe place] and told me not to be scared, that's all," said the boy.
According to the Interior Ministry website, two armed men in camouflage uniform with the Right Sector insignia, suspects into the July 11 Mukacheve conflict, had been spotted near Mukacheve.
"Police and SBU officers attempted to arrest them but they grabbed a fifth-grader and retreated, using the boy as a human shield. They released the boy afterward," reads the Interior Ministry press service report.
The press service adds that the law enforcement agencies are carrying out measures to detain the armed individuals.
As UNIAN reported earlier, the shootout occurred in Mukacheve on July 11 during a conflict between the Right Sector and the people close to Mykhailo Lanyo, Ukrainian MP. The standoff claimed several lives, the number of wounded is still unclear.
Criminal proceedings were opened under Part 1, Article 255 of the Criminal Code of Ukraine (Creating a criminal organization) and Part 3, Article 258 (Terrorist act).
Several Right Sector fighters are hiding out in the forests. SBU urged the fighters to surrender their weapons voluntarily.
Ukrainian President Petro Poroshenko took under personal control the developments of the situation regarding a kidnapping of a boy near Mukacheve.
The Right Sector organization claimed that the information on a kidnapped boy is a lie, being part of the war against the military-political movement aimed at terminating the fighters who have at their disposal important information regarding a smuggling corridor in Transcarpathian region.