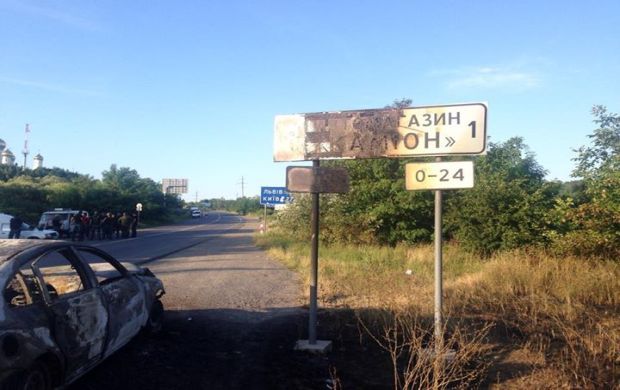 Shootout in Mukacheve occurred on July 11 / facebook.com/Mustafanayyem
Main investigation department of the Prosecutor General's Office has been conducting a pre-trial investigation into criminal proceedings on the fact of creation of and participation in a criminal organization for the purpose of committing grave and especially grave crimes, and committing terrorist acts that resulted in severe consequences, under Part 1, Article 255, and Part 2, Article 258 of the Criminal Code of Ukraine.
The investigation found that on July 11, on [a section of] a Kyiv-Chop highway in Mukachevo a group of people from The Ukrainian Volunteer Corps of the Right Sector organization committed terrorist acts with the use of firearms and explosives against civilians and law enforcement officers inflicting bullet and shrapnel wounds of varying severity. Also, the vehicles belonging to civilians and law enforcement agencies, have been damaged and destroyed.
During the investigation, according to Article 208 of the Code of Criminal Procedure four men have been detained in the act, wearing camouflage uniforms, with the insignia of the Right Sector organization. All these persons are now officially suspected of committing these criminal offenses.
Two of the detainees, who have been wounded, are now being treated in hospitals. During their detention, items believed to be automatic weapons have been seized. Forensic examinations are underway.
Meanwhile, the restrictive measure against the suspects is yet to be determined, according to the PGO.