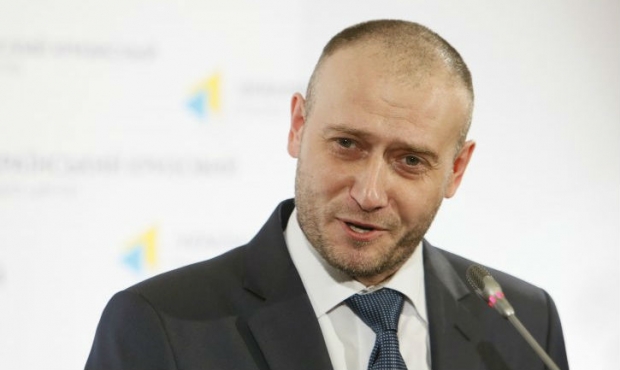 Posts about alleged plans to strip Yarosh of immunity is 'a fake' / Photo from UNIAN
"The information distributed allegedly on behalf of Ukrainian Interior Minister Arsen Avakov in the Internet today [July 14] is a fake," the ministry said.
A post that appeared on Avakov's personal Twitter account on Tuesday read: "The Interior Ministry is preparing a package of documents for the Verkhovna Rada to strip Yarosh of parliamentary immunity."
The same post contained a link to the avakov.com website called as 'Arsen Avakov's personal site'.
"From the results of an investigation into the events in Mukacheve it is already clear that the Right Sector Party threw a serious challenge to the state and its security. No matter how Dmytro Yarosh would try to distance himself from the actions of his fighters in Mukacheve, we do know that everything happened with his knowledge. The Ukrainian Interior Ministry, jointly with the Prosecutor General's Office, are planning to address to the Verkhovna Rada with a request to deprive the Right Sector leader of parliamentary immunity to enable the necessary investigation. A relevant package of documents will be submitted to parliament for consideration in the very near future," was written in a statement posted on that website.
The facts of the publication of this information are being examined now, the ministry's press service said.
As UNIAN reported earlier, the shoot-out occurred in the town of Mukacheve in Zakarpattia on July 11 during a conflict between the Right Sector organization and the people close to Ukrainian MP Mykhailo Lanyo.
Prosecutor General of Ukraine Viktor Shokin created a combined investigation group from of prosecutors, the SBU Security Service, and Interior Ministry officials to investigate the incident.
Criminal proceedings were opened under Part 1 of Article 255 of the Criminal Code of Ukraine (creating a criminal organization) and Part 3 of Article 258 (a terrorist act).