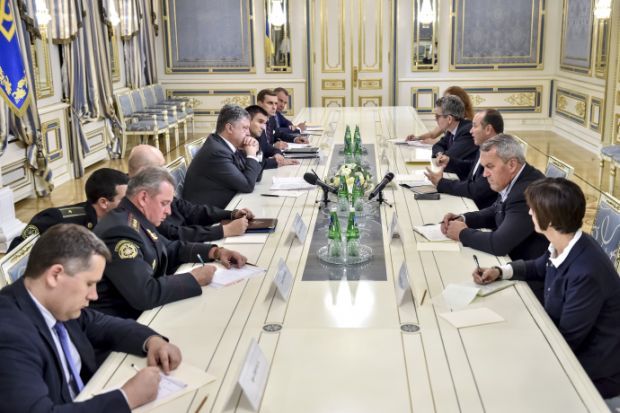 president.gov.ua
Poroshenko informed Breedlove about the current state of settlement of the Donbas crisis. He said that Ukraine has been strictly complying with the Minsk agreements and insisted on the need for proper implementation by all parties.
Ukrainian President expressed his gratitude for the support and assistance from the United States and NATO to strengthen Ukraine's defenses.
"This is a very important issue for us in time when Crimea is annexed and there is an ongoing aggression in Donbas," Poroshenko said.
The President noted the effectiveness of joint military exercises, in particular, at the Yavoriv training ground. He also expressed Ukraine's interest in developing further cooperation in the defense sector, including the expansion of the program of joint exercises in order to strengthen the Ukrainian army and bring its level of readiness in accordance with the best modern standards.
"We've got an effective military and technical cooperation. There are also good prospects for cooperation in terms of military exercises," he said.
Breedlove, in his turn, praised the current level of cooperation between the Ukrainian and the U.S. military, in particular on the issue of joint exercises.
"All the information I get indicates that the exercises show good progress, that military train and perform at a high level," he said.
Breedlove also noted the importance of further implementation of reforms in the Ministry of Defense of Ukraine.
"It is difficult to reform when there is a war. We support you now and will persist", he said.
As UNIAN reported earlier, Ukrainian President Petro Poroshenko instructed the Ukrainian members of the Trilateral Contact Group for the settlement of the Donbas conflict to sign an agreement that would guarantee the creation of a 30-km-wide buffer strip along the contact line in Donbas.