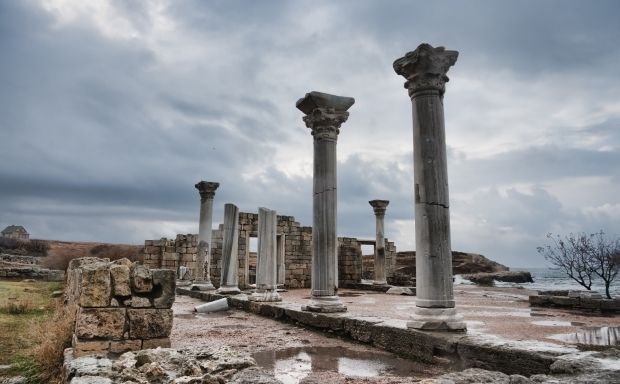 The Crimean-based Tauric Chersonesos nature preserve / Photo from Wikipedia
The appropriate documents are to be submitted by the Sevastopol city governor to the Russian government by September 1, the Kremlin said.
The Tauric Chersonesos nature preserve hit the headlines when Sevastopol Governor Sergei Menyailo dismissed the nature preserve's director Andrei Kulagin and appointed Archpriest Sergei Khalyuta of the Simferopol diocese of the Russian Orthodox Church to this post.
This decision triggered negative feedback from a number of museums, including the staff of the nature preserve, because Khalyuta is not an expert in the respective field.
Menyailo said that Khalyuta's appointment had been supported by the Russian Culture Ministry and had received the blessing of Patriarch Kirill of Moscow and All Russia.
Head of the Sevastopol Legislature Alexei Chaly and director of the State Hermitage Museum Mikhail Piotrovsky were among those who opposed the priest's appointment to this job.
Menyailo in turn still insists that the decision will help resolve previous disputes between the museum and St. Vladimir Cathedral in Chersonesos, located in the nature preserve. In this sense, Chersonesos will remain a museum and archeological complex, he said.
The Tauric Chersonesos nature preserve is a major museum and scientific research center in Crimea. It includes medieval fortresses, an ancient settlement and hectares of unique agricultural farmland. It became a UNESCO World Heritage site in 2013.
UNIAN's memo. Russia annexed Ukraine's Crimea in March 2014. After the annexation, the self-proclaimed Crimean authorities announced about the nationalization of Ukrainian state-run enterprises located in Crimea. The legal status of the nationalized companies remains unclear, as neither the Ukrainian authorities nor the international community has recognized the annexation of Crimea.