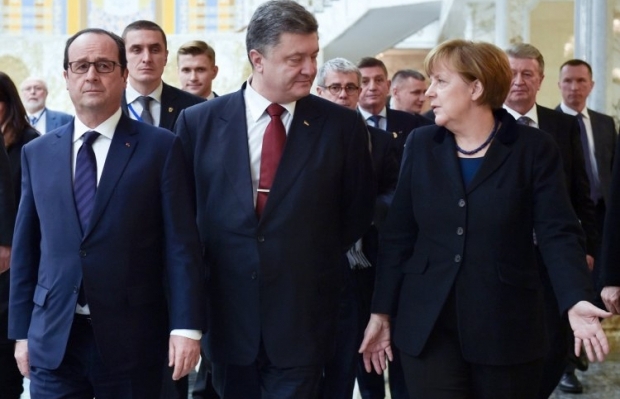 A meeting between Poroshenko, Hollande and Merkel in Berlin on August 24 will be held on Ukraine's initiative / Photo from UNIAN
"Of course, issues related to security will be top priority. Despite a considerable decline in the number of attacks [in Donbas] in the past few days, we are not satisfied that the key clauses and commitments undertaken by the Russian side [under the Minsk agreements], namely the withdrawal of large-caliber artillery systems and heavy weapons, have not been fulfilled," Poroshenko told reporters on Thursday.
In fact, the agenda of the meeting to be held on the initiative of the Ukrainian side, is broad, the Ukrainian president said.
"We also must ensure that the OSCE Special Monitoring Mission to Ukraine could have full access to all areas from where attacks are mounted, so that the world could see the international community's determination to ensure peace and order," he said.
The Berlin meeting will also touch upon the issue of creating a strong international coalition, which must counter the aggression. "The key task of the Ukrainian authorities is to shape a strong international community as a united coalition, which must stop the aggression. This includes coordinated action in the east of the country and coordinated steps regarding the non-recognition of the annexation of Crimea. This is especially topical after the illegal visit of Russian President Vladimir Putin to the territory of the annexed Crimea," Poroshenko said.
The fourth issue of the talks in Berlin with Merkel and Hollande will be the coordination of action on a visa-free regime between Ukraine and the European Union.
Poroshenko said that on August 17, the Ukrainian side submitted its report on the implementation of the Visa Liberalization Action Plan.
As was agreed with President of the European Commission Jean-Claude Juncker, an assessment mission is expected to arrive, the Ukrainian president said.
"Ukraine must report what has been made; finalize those commitments it had to fulfil according to the schedule. It concerns the fight against corruption, judicial and legislative reform designed to accomplish the technical tasks we have agreed with the EU leaders at the EU-Ukraine summit [in Kyiv in April 2015]," he said.