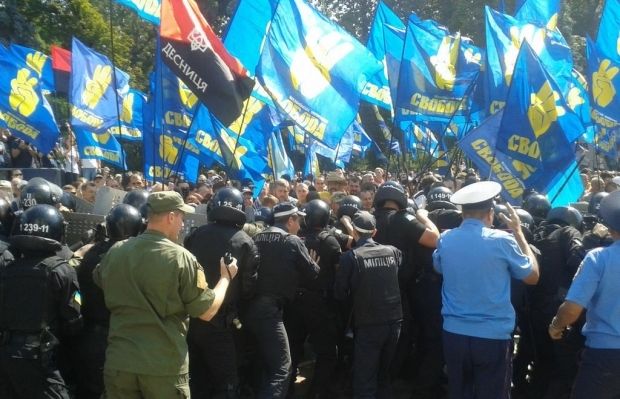 @radiosvoboda
"As part of investigation of the criminal proceedings initiated regarding group violations of public order, mass disorder, causing harm to life and health of the police officers engaged in the performance of their duties, as well as illegal handling of weapons, about 30 people have been summoned today to appear at the Main Investigation Department of the Interior Ministry for questioning. Among them are Svoboda party leader Oleh Tyahnybok (Kyiv), Svoboda party member Yuriy Syrotyuk (Ternopil), head of Kharkiv regional party branch Ihor Shvayka, chairman of the social-nationalist movement "Social-National Assembly" Ihor Kryvoruchko (Kyiv region, Bila Tserkva city), Svoboda party activist Serhiy Boyko (Kyiv region, Brovary city), Svoboda party member Ihor Sabyi (Khmelnytskyi region, Kamianets-Podilskyi city)," according to the ministry's report.
As UNIAN reported earlier, the clashes outside the Verkhovna Rada's building started after the Verkhovna Rada had voted to amend the Ukrainian Constitution, introducing decentralization provisions.
Protesters disagreeing with the amendments started throwing bottles, smoke bombs and paving stones at law enforcement officers guarding the parliament's building. Also, a defensive grenade was thrown at them.
One serviceman was killed and two others died in hospitals. More than 150 people received injuries of varying severity.
The records have been entered into the Unified Register of Pre-trial Investigations under Article 348 of the Criminal Code of Ukraine (murder or attempted murder of a law enforcement officer while engaged in the performance of official duties), Part 3 of Article 345 (threat or violence against a law enforcement officer), Article 293 (group violations of public order), Part 2 of Article 294 (riots).
According to data of law enforcement bodies, the riots were organized by the All-Ukrainian union Svoboda, the Radical Party and other organizations.