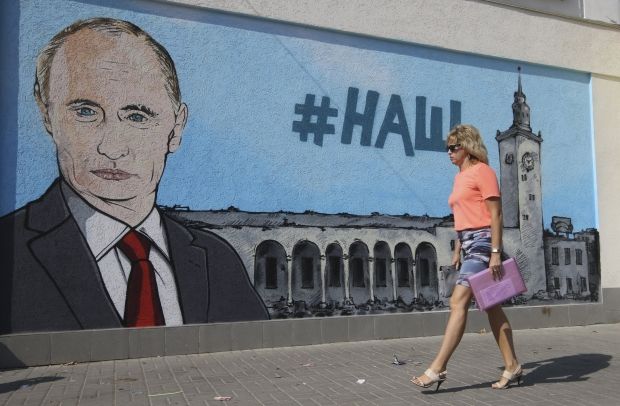 REUTERS
The report focuses on radical deterioration of rights and freedoms of the Crimean Tatar population and the Ukrainian population living in the Russian-occupied Crimea.
The report points to the existing practices of the occupation authorities in Crimea to bring charges of "extremism and separatism" against pro-Ukrainian citizens of the peninsula, use forced citizenship of the Russian Federation, exert moral, psychological and political pressure, harassment and abduction of the Crimean Tatars, Ukrainians and citizens of the peninsula that openly support the territorial integrity of Ukraine within its internationally recognized borders.
The report presents outrageous facts of systematic and massive violations of human rights in Crimea, in particular, of politically motivated persecution of the participants of the "Euromaidan" protests, kidnapping of political activists by the Crimean "self-defense" groups, banning entry to Crimea of the leading members of the Crimean Tatars' Mejlis, preventing the transfer of 4,323 children without parental care to the Ukrainian mainland.
"Ukraine highly appreciates contribution of the OSCE ODIHR and the OSCE HCNM to ensuring an objective assessment of existing violations of human rights and freedoms in the occupied Crimea," Ukraine's Ministry of Foreign Affairs notes in its statement.
"Ukraine demands from the Russian Federation and the occupation authorities in Crimea to ensure full and unhindered access for international monitoring missions and non-governmental human rights organizations on the Crimean peninsula, the unconditional implementation of the recommendations of the Mission's Report, and it calls on the Russian Federation to implement practical steps that would demonstrate willingness to return to the fulfillment of its obligations in accordance with the rules and provisions of international law and international humanitarian law," the statement reads.
Read alsoCrimean Tatar newspaper office in Russian-occupied region ransackedAs UNIAN reported earlier, after the annexation of Crimea by Russia in March 2014, the Crimean peninsula was announced a temporarily occupied territory, with an administrative border being set up between the Ukrainian mainland and the peninsula.
Crimean Tatar leaders have declared that the Crimean Tatars are planning to block the transport routs with Crimea from the Ukrainian side of the administrative border. The beginning of the campaign is scheduled for September 20-21.