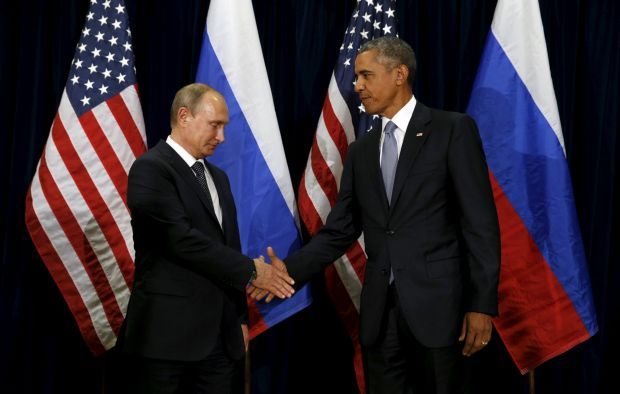 REUTERS
"This was not a situation where either one of them was seeking to score points in a meeting," the official has told CNN, speaking anonymously to describe a private meeting which had Ukraine and Syria on agenda.
Ahead of the meeting, Obama's aides had modest expectations for results, saying they were looking for a candid conversation on Ukraine and greater clarity on why Russia is ramping up its military presence in Ukraine.
Those goals appeared to have been reached, according to the U.S. officials. However, on neither crisis did the men come to an agreement, though few expected anything close to consensus on two areas where the U.S. and Russia are so deeply at odds.
Even the meeting's agenda is under dispute. Obama's aides asserted the focal point was Ukraine, and the entrenched Russian fighters on the country's eastern border. A secondary topic, they said, was the recent buildup of Russian troops and equipment in Syria.
The Kremlin argued the opposite: Syria would lead the meeting, claimed a spokesman for Putin. A discussion on Ukraine -- where the U.S. claims Russia violated international law -- would come only "if there is enough time."
But contrary to early projections of a testosterone-fueled bickering match, as the two presidents were seen smiling tightly during the photo-op at the beginning of the session, a senior administration official said the nearly 90-minute meeting was productive and focused, lasting twice the planned time.
The face-to-face meeting is the first time the two leaders have met since Russia's incursion into Ukraine aside from brief encounters on the sidelines of global summits in France and Australia.
Obama, responding to the Ukraine crisis, has sought to isolate Putin, ousting him from the Group of Eight leading industrial nations and enlisting European countries to join in economic sanctions which have done little to stop or reverse Putin's actions in Crimea despite having a significant toll on Russian economy.
Secretary of State John Kerry was said to have pushed Obama to accept the meeting, arguing that skipping the talks could result in a missed opportunity.
As UNIAN reported earlier, in an interview with the Associated Press Ukrainian President Petro Poroshenko hoped that the UN talks between Obama and Putin might produce "a firmer incentive" for Moscow to comply with international agreements agreed earlier this year and last year in Minsk, Belarus, calling for a cease-fire and weapon pullbacks by all sides.