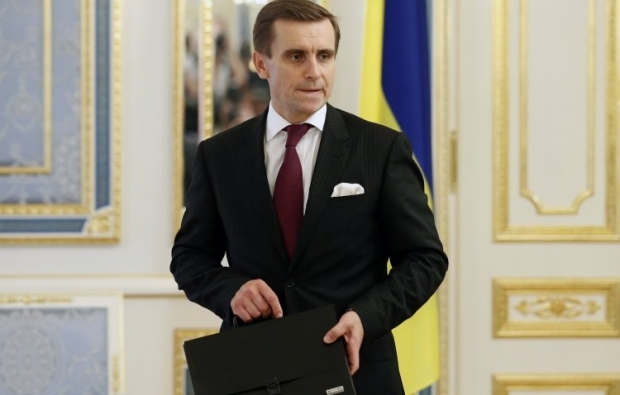 Photo from UNIAN
"It was noted that Ukraine had to adopt amendments to the Constitution - that did not happen. Secondly, for example, it was said that Ukraine should adopt a new amnesty law, to automatically grant pardon to all militants - this did not happen," said Yeliseiev.
In this regard, he said that "we refuted all attempts to adopt a new amnesty law, especially considering the fact that automatic pardon would be provided to all militants of the so-called "DPR" and "LPR" [ Donetsk People's Republic and Luhansk People's Republic, respectively]."
"Thirdly, the Russian side insisted that full amnesty be introduced prior to the local elections in Donbas - this also did not happen," said Yeliseiev.
Thus, the official stressed, Ukraine is not going to pass a new amnesty law. "We used the Paris platform to convincingly prove that it has been adopted, and it is in line with the Minsk agreements, as well as it fully complies with international norms and standards," he said.
Yeliseiev also stressed that persons responsible for shooting down Malaysia Airlines passenger jet over Donbas last year will not be pardoned under any circumstances. 
"Pardon cannot be granted to individuals charged with or accused of massacres, crimes against humanity and, in particular, including those who were involved in the downing of MH17 Malaysia Airlines passenger aircraft. This issue is not on the agenda, and we found mutual understanding on this issue in Paris," said Yeliseiev.
Deputy chief of the Presidential Administration also explained that full amnesty cannot be introduced prior to local elections "for one simple reason - the decision on amnesty should be taken by legally elected authorities."
The Ukrainian side gave an example of application of amnesty abroad, in particular in the Balkans and Chechnya.
As UNIAN reported earlier, on October 2, Paris hosted a meeting of the leaders of Ukraine, France, Germany, and Russia on the situation in the Donbas.
Following the meeting, Ukrainian President Petro Poroshenko said that the participants emphasized the inadmissibility of sham elections on October 18 and November 1 in militant-occupied areas of Donbas, and agreed that such elections must be held only according to the Ukrainian legislation.
In turn, French President Francois Hollande said, the parties agreed that a "separate law" would be enacted to provide for holding of local elections in the so-called "DPR" and "LPR."
Hollande also said that the leaders also discussed the issue of amnesty which was supposed to "be carried out along with the elections."
This means that immunity must be granted and guaranteed to all candidates during the election period, according to Hollande.
Earlier, Russian Foreign Minister Sergei Lavrov said that the amnesty for militants from the so-called "DPR" and "LPR" was discussed by the Normandy Four in Paris in conjunction with local elections and Ukraine's constitutional reform. According to him, at the suggestion of France, supported by Germany, the parties considered agreeing on such terms of elections, which would "ensure that all other aspects of the Minsk agreements are fulfilled, including amnesty, special status, and constitutional reform."