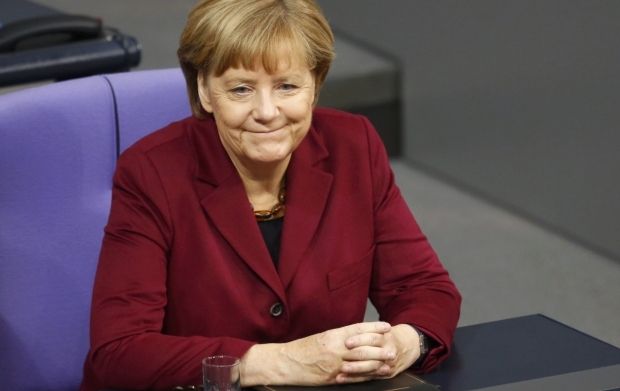 REUTERS
German Chancellor Angela Merkel has said that Germany and the European Union are still focusing on the crisis in Ukraine, despite the wave of migrants into Europe, Ukrainian Ambassador to Germany Andrij Melnyk wrote on Twitter on Thursday night.
"The goal of Europe remains the restoration of self-determination of Ukraine and its territorial integrity," Melnyk quoted Merkel's words.
German Chancellor Angela Merkel said on Thursday she saw a "glimmer of hope" for a political solution to the Ukraine crisis, but insisted sanctions against Russia could be rolled back only once the Minsk peace plan was fully implemented, according to Reuters.
Speaking in the Bundestag lower house of parliament, Merkel welcomed a decision by pro-Russian separatists in eastern Ukraine to delay disputed local elections there.
Read alsoUkraine and Germany to establish Chamber of CommerceShe also welcomed the fact that a truce has been largely holding since the start of September, allowing the adversaries to extend a pull-back of weapons and raising hopes for the fragile peace process.
"I'm speaking of a glimmer of hope, nothing more and nothing less," the conservative leader said. "But this offers us the opportunity now to finally make progress on the road to a political solution."
But she added that the sanctions against Russia could be removed only when the peace plan, worked out in Minsk, Belarus, in February, had been fully complied with.
"The indispensable keystone of Minsk is the full withdrawal of illegally stationed troops and mercenaries in Ukraine and Ukraine regaining full control over its borders," she said.