Korban brought to Kyiv, prosecutors don't disclose investigation venue
Chief of the special investigation department of the Prosecutor General's Office (PGO) Stepan Bozhylo claims that UKROP Party leader Hennadiy Korban is now in Kyiv and he is engaged in legal proceedings, according to an UNIAN correspondent.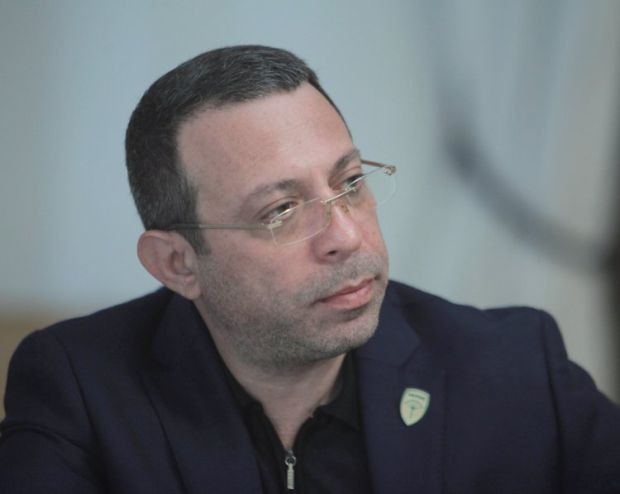 The PGO claims Korban can use his procedural rights / Photo from UNIAN
"He is currently in Kyiv. Investigators are working with him, conducting legal proceedings," he said at a briefing on Tuesday.
Bozhylo declined to disclose Korban's exact whereabouts. "Due to certain circumstances in the criminal proceedings, I cannot provide this information at the moment," he said.
In his words, Korban can use his procedural rights, there is no abuse [by the investigators], and his life is not in danger.
According to Bozhylo, after Korban was released in the court room in Chernihiv on Tuesday morning, he was repeatedly detained in keeping with Article 208 of the Criminal Procedure Code.
"During pre-trial investigations into a criminal case yesterday, we got information about Korban's committing several criminal offenses. Information about them was included into the state register of pre-trial investigations and a probe into the facts began. Following an investigator's decision, Hennadiy Korban was detained under Article 208 of the Criminal Procedure Code in the morning today," he said.
As UNIAN reported earlier, the SBU Security Service of Ukraine started searches of UKROP party members in Dnipropetrovsk on Saturday, October 31. The searches were conducted in the house of Korban's parents, in the National Defense Foundation premises and in volunteers' houses.
Korban was detained in Dnipropetrovsk, later taken to Kyiv where he was questioned by the SBU and then brought to Chernihiv's Novozavodsky district court, which on November 2 started hearings to decide on pre-trial restrictions for Korban.
Korban was released in the court room on November 3 as his 72-hour detention period was over, but he was taken to Kyiv shortly after. Later, it became known that he was held in an SBU pretrial detention center at Askoldovy Lane in Kyiv.
PGO Prosecutor Vladyslav Kutsenko said that Korban had not been kidnapped, he was being kept by law enforcement agencies.
The PGO earlier announced Korban was charged with creating a criminal group under Article 255 of the Criminal Code of Ukraine. What is more, investigator of the PGO Main Investigation Department Mykola Makeyev said that Korban was announced suspicion of violating Part 5 of Article 191 (large-scale misappropriation of public funds), Part 3 of Article 27 (complicity), Article 349 (kidnapping), Part 2 of Article 289 (theft of motor transport).
If you see a spelling error on our site, select it and press Ctrl+Enter