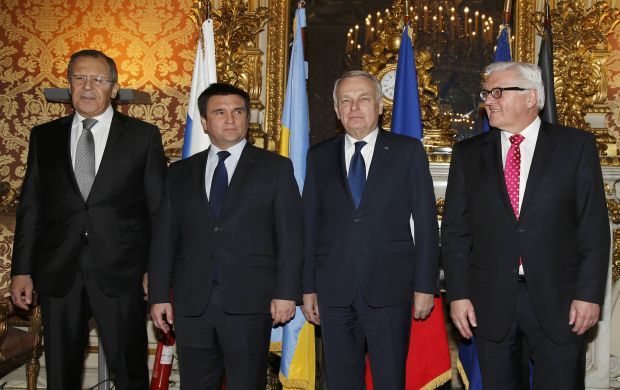 REUTERS
Klimkin: Paris talks of Normandy Four foreign ministers are not decisive
Ukrainian Foreign Minister Pavlo Klimkin late Thursday told the journalists after the five-hour talks of the Normandy Four top diplomats that these negotiations on the Ukrainian crisis were not decisive, but only the next step in the settlement.
"It was a very difficult meeting. We came here with three key priorities. First was the security. Based on discussions with the OSCE SMM, we expressed clear proposals," Klimkin said.
"We have focused on the need to exchange hostages. Everything that is happening now is the lack of any progress – we only managed to make a very limited swap," said the minister.
Pavlo Klimkin also said that the main topic of discussion was the issue of the modality of elections. "Here, our main focus was on the need to ensure security and to have such election modalities, which would correspond to Ukrainian legislation and OSCE standards," Klimkin said.
Also, the Ukrainian foreign minister said the Ukrainian side "placed a special emphasis on the establishment of security zones, such as in Debaltseve, or around the Donetsk airport."
Steinmeier: the meeting was one of the most difficult ones
German Foreign Minister Frank-Walter Steinmeier said that the meeting of the Normandy Four foreign ministers was one of the most difficult ones, and he was dissatisfied both with the situation in the east of Ukraine and the results of the meeting.
In addition, he said that the process of the withdrawal of weapons in Donbas had to be extended.
Ayrault hopes for holding elections in Donbas before July 2016
In turn, French Minister of Foreign Affairs and International Development Jean-Marc Ayrault said that the plans to hold local elections in Donbas before July 2016 were announced during the talks.
He expressed hope that these elections would be held before July 2016.
Lavrov: No consensus
According to Russian Foreign Minister Sergey Lavrov, the German and French initiative to hold the elections in Donbas before July, which is supported by Moscow, was rejected by the Ukrainian side, so "there is no consensus."
Lavrov traditionally said that it is necessary to provide Donbas with a special status and grant amnesty and constitutional reform in order to hold elections in Donbas. Therefore, there are no shifts in preparation of the elections so far, he said.