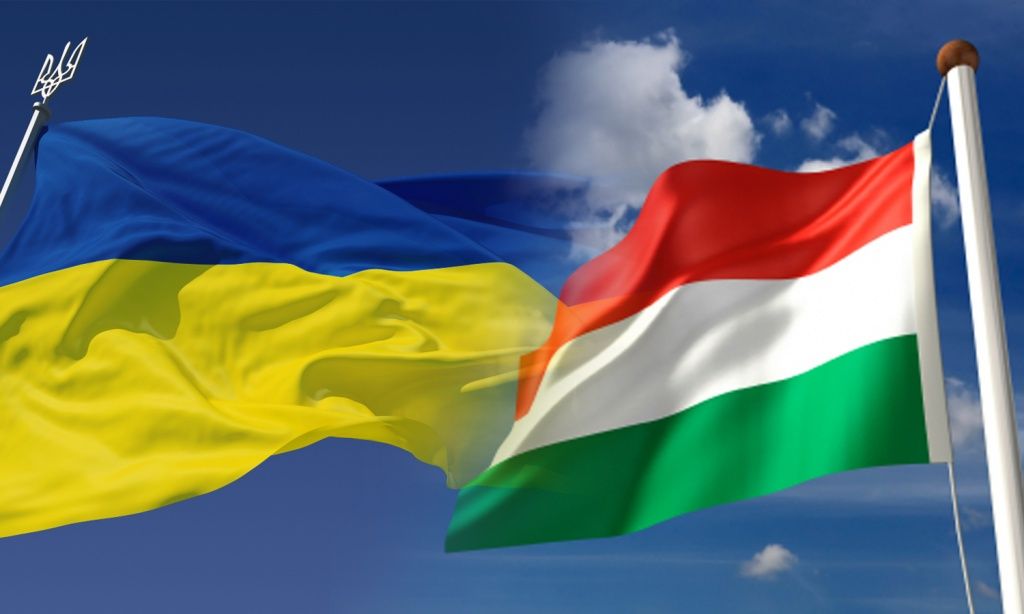 news.church.ua
On October 13, despite protests of the Ukrainian Ministry of Foreign Affairs, a "self-determination for Zakarpattia" rally was held in Budapest claiming that the western-lying region of Ukraine belongs to Hungary, Euromaidan Press reports
Weeks earlier, the Ukrainian Security Service detained a gang with reportedly Russian connections planning to bolster ethnic tensions by blowing up Hungarian monuments in Zakarpattia, a region with a large Hungarian minority.
This all is happening on the backdrop of Hungary's sharp protest to Ukraine's new education law limiting the scopes of using minority languages in education as Hungary had demanded the issue of the alleged "brutal violation of minority rights" be brought up at the next meeting of the Ukraine-EU Association Council.
Ukrainians accuse Hungary of imperial ambitions, and Russia of fostering Hungarian separatism as part of its hybrid war against Ukraine. Some Hungarian politicians dream of reconstructing the country's pre-1920 borders. This means incorporating the borderline areas of Austria, nearly one half of Slovakia, a large part of the Ukrainian Zakarpattia region (also known as Transcarpathia), a part of Romania, Serbia, Croatia, and the frontier of Slovenia into Hungaria.
Read alsoPoroshenko defends education law in PACE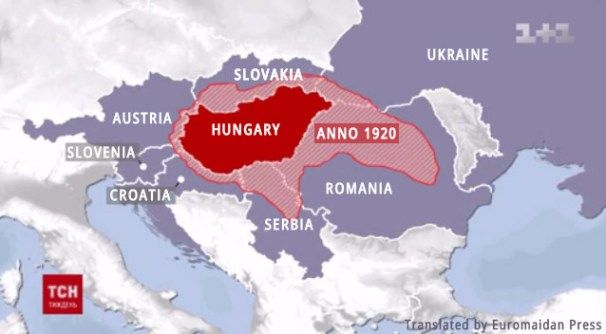 Euromaidan Press
When in 2011 Hungary took up the presidency in the EU, Hungarian officials presented this historical map. Despite the scandal that this caused in the EU, Hungarian politicians haven't given up on the idea, which is much to the Kremlin's liking.
There are dozens of ethnic Hungarian villages along the Ukrainian-Hungarian border that are home to almost 150,000 ethnic Hungarians. Overall, 12% of the population in Zakarpattia region identify as Hungarians. The Hungarian government officially provides interest-free loans and grants to the Hungarian speaking residents of Zakarpattia to win their loyalty. This is a new strategy. All the countries bordering Hungary are wary of this subtle game Budapest is playing, the name of which is Greater Hungary.
In 1920, at the end of World War I, Hungary lost two-thirds of its territories, including a small part of Ukraine's modern Zakarpattia region.
After Viktor Orban became the Prime Minister of Hungary in 2014, government officials in Hungary began to state publicly that the ethnic Hungarians who currently live in Romania, Slovakia, Serbia, and Ukraine deserve autonomy. The Prime Minister himself made similar statements.
Officially, Hungary is not pursuing a policy of separatism. It is the far-right Jobbik party in Hungary, which has close ties to the Kremlin that has claims to foreign territory.
As political analyst Dmytro Tuzhanskyi wrote for Europeiska Pravda, this party is responsible for holding a "self-determination for Zakarpattia" rally in Budapest on October 13. Jobbik conducted a similar meeting on March 27, 2014, days after the Russian annexation of Crimea. The initiator of both rallies is the same, Tomas Gaudi-Nagy. In April 2014, he spoke at a PACE session wearing a Tshirt with the inscription "Crimea legally belongs to Russia, Zakarpattia legally belongs to Hungary." Jobbik never hid its close relationship and collaboration with Russia. Its members were observers at the pseudo-referendum in Crimea.
The government, however, is trying to distance itself from Jobbik's statements, continues Serhiy Halchenko at TSN. The official line of the government is that their intent is to keep the ethnic Hungarians close to Hungary by providing financial support.
According to Dmytro Tuzhanskyi, in addition to providing financial support, Hungary has introduced a policy of dual citizenship for ethnic Hungarians living outside of Hungary. Presently Budapest is working hard at persuading Ukrainian officials to permit the ethnic Hungarians of Zakarpattia to have a Hungarian passport.
"Hungary had tried to implement the same policy in Slovakia and Romania. The governments of these countries responded differently. For instance, Slovakia not only prohibited dual citizenship but also applied a prohibitive fine as a penalty as well," the political analyst explained.
It seems the official policy of Hungary toward Zakarpattia is three-pronged: providing financial support to ethnic Hungarians for cultural and educational development; promoting the right to dual citizenship; and supporting the ethnic Hungarians who seek government positions.
According to Budapest, this is the kind of autonomy they are talking about – they are not interested in reclaiming territory.
Josef Bortot, deputy head of KMKS, Ukraine's largest Hungarian party,  confirms this. He says that defending interests without politics is impossible as he rejects any manifestations of separatism.
"We want the Hungarians of Zakarpattia region to be able to preserve their identity, so they will have no reason to emigrate and seek a better life abroad," said Josef Bortot.
Read alsoKlimkin urges Hungary to leave out emotions, soberly assess situation with languages in ZakarpattiaHennadiy Moskal, the head of the Regional State Administration, has established a very good working relationship with the local Hungarian organizations. He ridicules the television stations that raise the non-existent issues of separatism and talk of widespread lawlessness. He claims it is the Kremlin that is pushing separatism. Hungary has good intentions, he says.
In the interview with TSN, Moskal said that the Kremlin is constantly working to drive a wedge between Budapest and Kyiv, promoting rallies and conferences where separatism is in the spotlight. One such conference was recently disrupted by the Ukrainian security agents.
In Hungary recently, Bela Kovacs was detained by the Hungarian state prosecutor. A member of Jobbik, Kovacs served as a Hungarian deputy of the European Parliament. He had an office in Zakarpattia Oblast. He is being investigated as an agent of the Russian FSB.
Read alsoHungary on Ukrainian education law: "This will be painful for Ukraine""Budapest's aspirations for the Hungarian community in Ukraine are interpreted in Russian or pro-Russian media in Ukraine as the intention to create an autonomy or to separate," said Dmytro Tuzhanskyi.
At the center of Ukraine's arguments in support of its recently adopted education law is the issue of the isolation of the Hungarian community in Ukraine. The law stipulates that starting from grade 5, Ukrainian will be the language of instruction for ethnic minorities save the Crimean Tatars. The previous situation, when all subjects in schools were studied in the minority languages, led to 60.1% of Hungarian and Romanian school graduates flunking their Ukrainian language exam, barring their road to universities and further career advancement within Ukrainian society, according to Ukraine's education minister Hrynevych.
Read alsoHungary's foreign minister refuses to meet with Ukrainian counterpart – mediaUkraine argues that the Hungarians will be better integrated into Ukrainian society when they know Ukrainian better. However, Hungary has widely criticized the law vowing resistance to any of Ukraine's initiatives toward rapprochement with the EU.