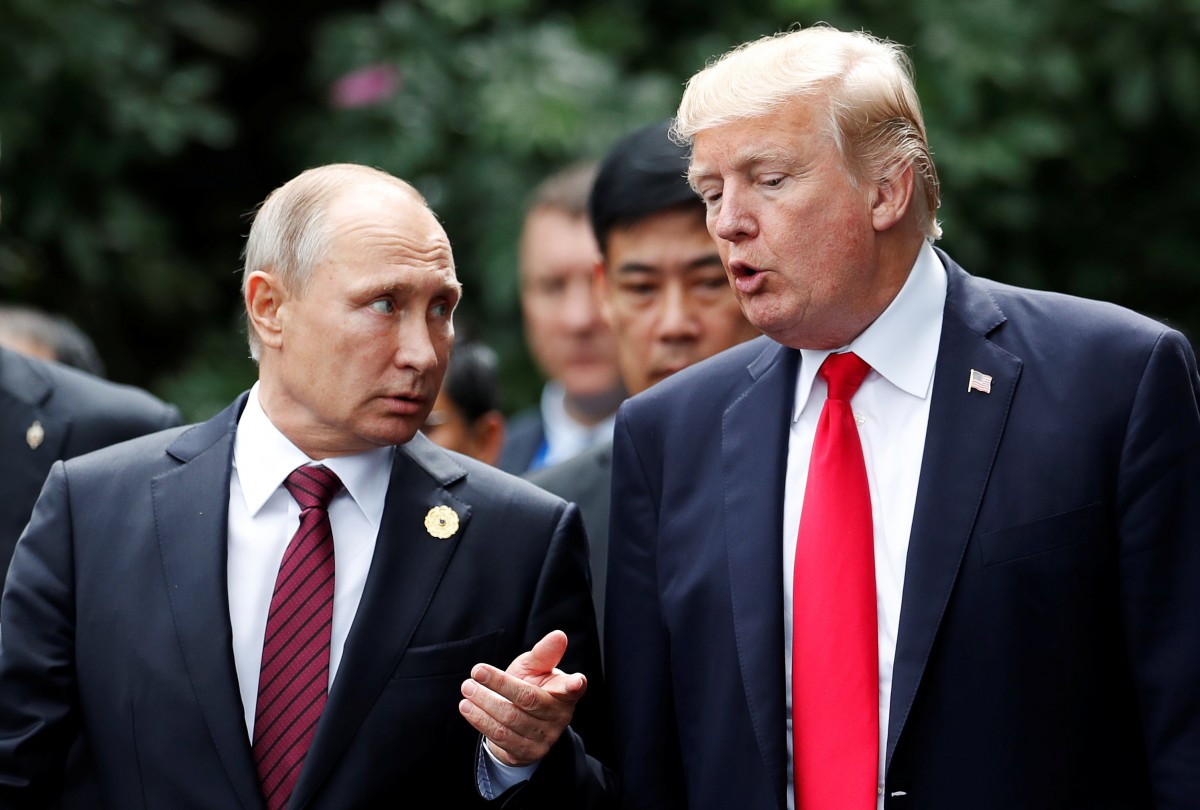 REUTERS
Moscow's plan is to legitimize its invasion and control over parts of two eastern regions of Ukraine by drawing President Trump into another bad deal, says the op-ed published by WP.
Vladimir Putin's pattern is familiar. He uses his military to escalate fighting on the ground and then approaches the West with a proposal sold as de-escalation. Appealing to European and U.S. desires for peace without Western intervention, the Russian president puts forward an alleged compromise. But in the details, Putin's proposals are really designed to divide his adversaries and cement his gains.
Such was the case in September, when Putin introduced a proposal for "peacekeepers" inside eastern Ukraine, where Russia continues to fuel a violent separatist uprising that has resulted in more than 10,000 deaths and displaced more than 1.5 million people since 2014. Ukraine, European powers and the United States all decided to engage Moscow on the idea.
Read alsoRussia must not be among UN peacekeepers in Donbas - Ukraine defense ministerBut as Ukraine's foreign minister, Pavlo Klimkin, said at the recent Halifax International Security Forum, Putin's plan really isn't for "peacekeepers" at all, Josh Rogin wrote. "He is proposing that international troops deploy only to protect the Organization for Security and Cooperation in Europe's special monitoring mission members in eastern Ukraine," said the author.
"The idea of a peacekeeping mission is a serious one," Klimkin said. "But the Russian proposal of a protection mission doesn't make any sense at all."
Read alsoKuchma: Russia suggests redrawing Ukraine border in eastFor one thing, the original Russian proposal was to deploy these forces along the line of contact between the Ukraine military and separatist forces. As the Ukrainian government sees it, that is simply Putin's way of fortifying the reality that Russia created on the ground.
Nevertheless, Ukraine's international supporters are taking the proposal seriously. German Chancellor Angela Merkel called Putin in September and persuaded him to yield on one point; Putin agreed the international force could be deployed not just along the contact line. That gave Western governments confidence a genuine negotiation with Moscow was possible.
Read alsoGermany's top diplomat says West, Russia's views on peacekeeping mission in Donbas differSecretary of State Rex Tillerson spoke about the idea with Ukraine President Petro Poroshenko on Nov. 4. Kurt Volker, the Trump administration's part-time special envoy for Ukraine, met with his Russian counterpart Vladislav Surkov on Nov. 13 and proposed a counterplan.
Moscow rejected 26 out of 29 of the paragraphs in Volker's proposal. But Volker said he intends to keep negotiating. He said the peacekeeping plan represents the best hope to return to Minsk II, a peace agreement that both Ukraine and Russia pledged to follow.
Read alsoVolker names two options for Russia's moves on DonbasThat process is stalled primarily because Russia won't honor provisions mandating a cease-fire, the removal of its heavy weapons from eastern Ukraine and access to the border. Russia still won't even acknowledge that it has forces on the ground in eastern Ukraine, much less remove them.
But the U.S. strategy is based on the assumption that Putin is looking for — or at least considering — a way out of his financial and military commitments in eastern Ukraine.
Ukraine has responsibilities under Minsk as well, including holding local elections in eastern Ukraine, giving the region special status and granting amnesty for the separatists. That can happen only if Putin holds up his end.
Read alsoWhat Russian "peacekeepers" want
But if Putin's goal is to stay in Ukraine and keep the country destabilized, prevent it from joining European institutions and maintain control over a buffer zone, he will never agree to a peacekeeping mission that meets Ukraine or Western conditions.
Most likely Putin intends to buy time to consolidate battlefield gains he has no intention of giving up. Trump — and before him, President Barack Obama — went along with it, ensuring that the next phase of the conflict plays out on Russia's terms.
Trump and Putin spoke Nov. 21 and "discussed how to implement a lasting peace in Ukraine," according to the White House. Trump should pursue that peace, but not on Putin's terms.