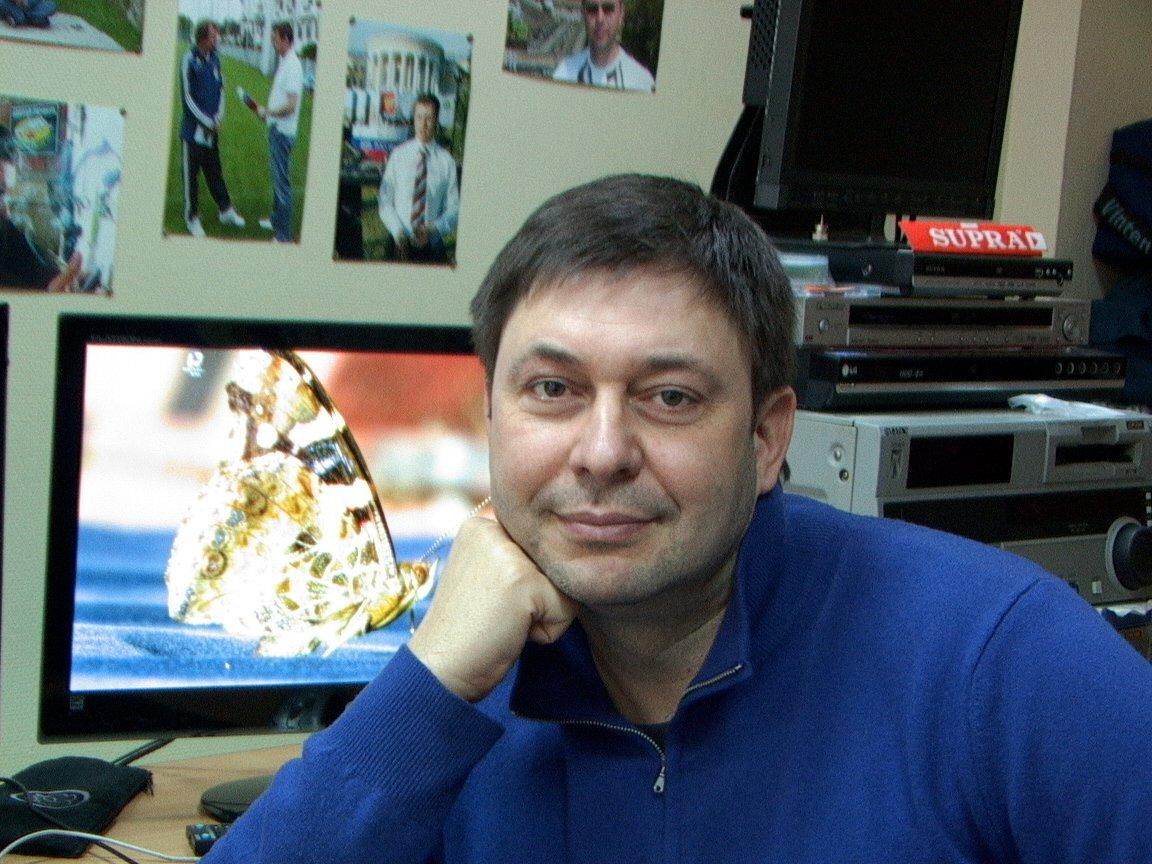 Facebook Kirill Vyshinsky
Chief of RIA Novosti's Kyiv office Kirill Vyshinsky, who was detained on May 15 and was indicted on charges of high treason in Ukraine, has admitted in court in Kherson that he has both Russian and Ukrainian passports.
Vyshinsky does not admit guilt and calls the case against him "pressure on the freedom of speech," a correspondent of the TSN TV news service has reported from the courtroom.
Read alsoRIA Novosti's Kyiv bureau chief monthly paid EUR 53,000 for discrediting Ukraine army
During the court session, the prosecutor read out the headlines of pro-Russian articles on the news agency's website. In turn, Vyshinsky replied that "all these articles are published in the 'Op-ed' section," so he does not see anything reprehensible in this.
Vyshinsky reportedly submitted a motion at the beginning of the hearing, saying he wanted to speak Russian in the courtroom.
As UNIAN reported earlier, the press secretary of the Ukrainian SBU Security Service's chief, Olena Gitlianska, said on May 15 the SBU officers had conducted raids in the office of RIA Novosti Ukraine in Kyiv.
Later, it became known that Vyshinsky was detained and indicted on charges of high treason. The SBU and prosecutors had uncovered the illegal activity of a Russian-controlled media chain in Ukraine.
It was established that in spring 2014, when Russia annexed Ukraine's Crimea, Vyshinsky produced anti-Ukrainian materials and received a medal "For the Return of Crimea" from Russian President Vladimir Putin, the SBU said.
Vyshinsky jointly with several other journalists started actively supporting the terrorist organizations in Donbas, the "DPR" and the "LPR," after his return from Crimea in 2014.
Deputy head of the SBU Security Service of Ukraine Viktor Kononenko said Vyshinsky had been paid EUR 53,000 every month for discrediting the Armed Forces of Ukraine. "EUR 53,000 for subversive activities is only a proven amount. According to our data, the financing exceeds EUR 100,000 per month," Kononenko said at a briefing in Kyiv on May 15.
Vyshinsky's lawyer said on May 16 his client had been transferred by Ukrainian law enforcers from Kyiv to Kherson for hearings on a preventive measure.