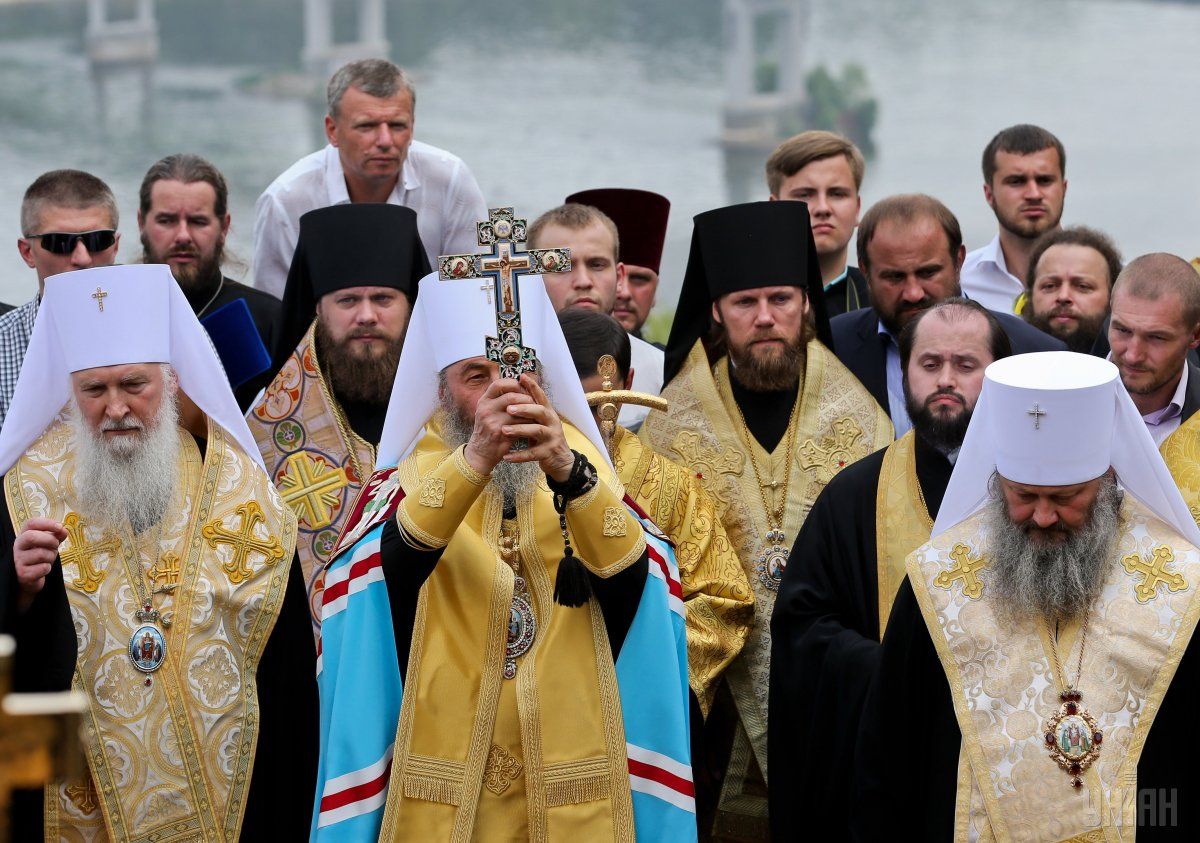 Photo from UNIAN
Adviser to the President of Ukraine, director of the National Institute for Strategic Studies, Rostyslav Pavlenko, has confirmed that President Petro Poroshenko on Tuesday held a meeting with bishops of the Ukrainian Orthodox Church of the Moscow Patriarchate.
"It was representatives of the UOC MP's wing, which is in favor of the idea of autocephaly for the Ukrainian Orthodox Church, supporting the creation of such a church, planning to attend to the Council and create this church," Pavlenko told Pryamiy TV channel.
"They talked about the insane pressure being exerted on them," the presidential adviser said.
He also suggested that those who did not want that this meeting be held were either synchronizing their actions with Moscow or received instructions from there.
"Because it was exactly about preventing direct dialogue – that's the only explanation we can imagine. Instead of an open discussion, they wanted to do some kind of a political demonstration," Pavlenko added.
According to Relyhiyna Pravda's sources, the following hierarchs of the Ukrainian Orthodox Church of the Moscow Patriarchate met with the head of state: Metropolitan Oleksandr (Drabynko), Metropolitan Simeon, and Archbishop Filaret.
As UNIAN reported, on November 13, Poroshenko was to meet with the episcopate of the UOC-MP at the "Ukrainian House" downtown Kyiv. At the same time, the episcopate of the UOC-MP on this day held in the Kyiv-Pechersk Lavra an emergency meeting of the synod, which decided to convene a council, where all bishops' attendance is obligatory. Following the meeting, the council of bishops of the UOC-MP confirmed its readiness to meet with Poroshenko, but on the church territory.
On November 13, the Ukrainian Orthodox Church of Moscow Patriarchate (UOC-MP) announced it did not recognize a decision by the Holy Synod of the Ecumenical Patriarchate of Constantinople to continue the process of granting autocephaly to the church in Ukraine and is going to sever Eucharistic communion with Constantinople.
The Moscow Patriarchate also said they would not take part in the creation of a new, autocephalous church in Ukraine, as their Council of bishops considers that granting the tomos of autocephaly is "artificial" and "forced from outside."
Following the Holy Synod of the Ecumenical Patriarchate of Constantinople October 11, it was announced that the procedure of granting Ukraine autocephaly would continue. What is more, the 1686 Synod letter after which the Kyiv metropolitan was put under Moscow's jurisdiction was cancelled and the canonical status of Filaret and Makariy was reinstated.