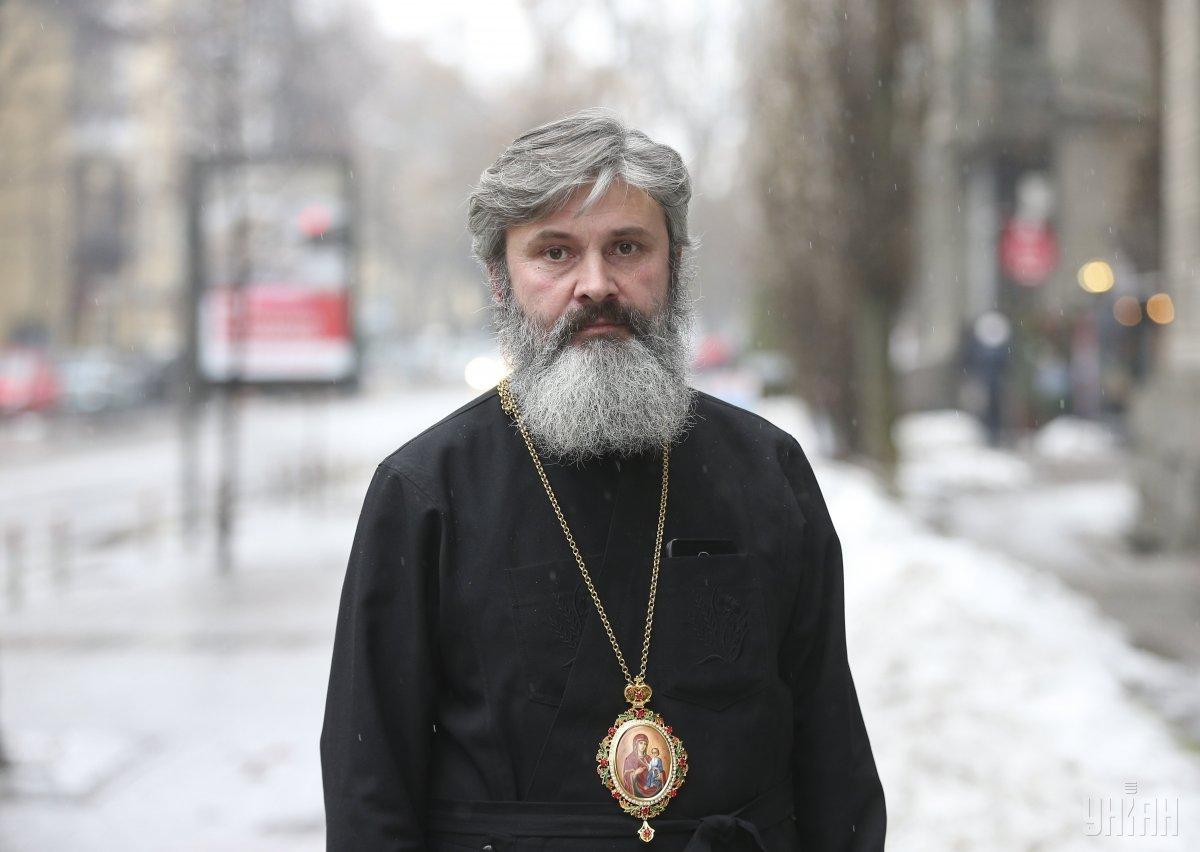 Photo from UNIAn
The threat of persecution of an archbishop of the Crimean Diocese of the Ukrainian Orthodox Church, Klyment, by Russian security services in the annexed Crimea remains as the case against has not been closed.
The purpose of his detention on Sunday was to thwart his planned trip to visit a Ukrainian political prisoner Pavlo Hryb, who is being held in Russia, and to tar the cleric's name, Klyment told RFE/RL's Krym.Realii project
"The goal is to blacken my name. As if to say, look who visits Ukrainians in prison: a thief who steals from himself, a cleric who walks the streets swearing at people. Now the administrative case that's looming over me has not been closed," he said.
Read alsoMFA: Ukraine sends Russia about 300 diplomatic notes demanding release of political prisoners
"Someone reported I had used foul language while on the market. They brought this witness to the police station – he appeared to be some homeless guy. We all laughed when he started cussing at us as he was leaving the police station," Archbishop Klyment said.
He noted that he does not exclude further moves against him on the part of Russian security officials. "The threat of my persecution remains. I can't predict what they'll come up with next to destroy me as an archbishop of the Crimean diocese in Crimea. If we look at the cases of Ukrainian political prisoners, we will see that in many instances, they start off from an administrative charge. In some cases, for example those of Andriy Zakhtey and Yevhen Panov, [the administrative charge] are even the same as was supposed to be applied in my situation – obscene language in public," said the archbishop.
Read alsoUkrainian Archbishop Klyment detained in Russia-occupied Crimea facing 15-day detention term
Klyment also thanked Patriarch Filaret and Metropolitan Epifaniy, Ukrainian Ombudsperson Liudmyla Denisova, lawyers Emil Kurbedinov and Nikolai Polozov, and Crimean Tatar activist Lilya Budzhurova. He stressed that "a very large circle of people was involved" to ensure his release.
 As UNIAN reported on March 3, Archbishop Clement was detained at a bus station in the temporarily occupied Simferopol as he was set to travel to Russia to visit a young Ukrainian political prisoner Pavlo Hryb. He was released later the same day without any charges pressed.
Archbishop of Simferopol and Crimea Klyment is the head of the Crimean Diocese of the Orthodox Church of Ukraine (OCU), and since January 22, 2018 he has served as the head of the OCU's Kherson Diocese. He is also a head of the Orthodox Mission to assist victims of human rights abuse and detainees.