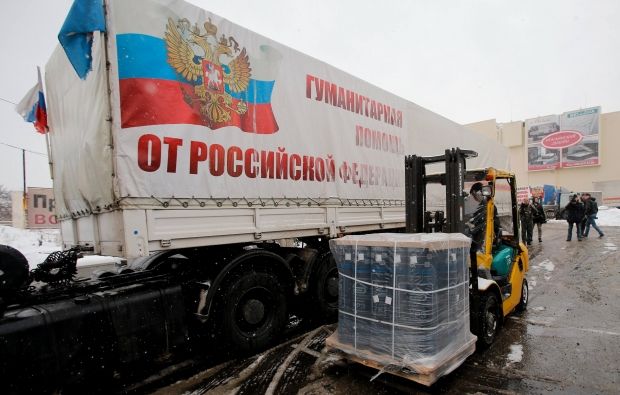 REUTERS
"The [departure of the] next convoy of Russia's Emergency Ministry is scheduled for July 16, 2015," Deputy Minister Vladimir Artamonov announced at the Russian Federation's Council of Federation.
He claims that the trucks of this convoy will deliver "food, medicines, equipment, other than principal items" to the occupied territories. The total weight of the cargo will exceed 1,000 tonnes.
"This will be convoy No. 32," he said.
The previous, 31st convoy crossed into Ukraine without permission from the Ukrainian government late in June 2015.
Russia started sending its "humanitarian aid" to Donbas last summer. While Russia insists the columns of trucks it sends into Ukraine are carrying aid for the people of the Donbas, they only ever cross into Ukraine via border points that are not under the control of the Ukrainian authorities, and only visit the areas of Ukraine where armed gangs have seized control from the Ukrainian authorities.
Russia also refuses to allow full inspections of the cargoes carried by the trucks, either by the Ukrainian authorities, the International Committee of the Red Cross, or the OSCE.
The Ukrainian authorities have said the convoys are being used to bring weapons, ammunition and supplies to the militant organizations in parts of Ukraine's Donetsk and Luhansk regions, and to bring out the dead bodies of Russians killed in the fighting in the east of Ukraine.