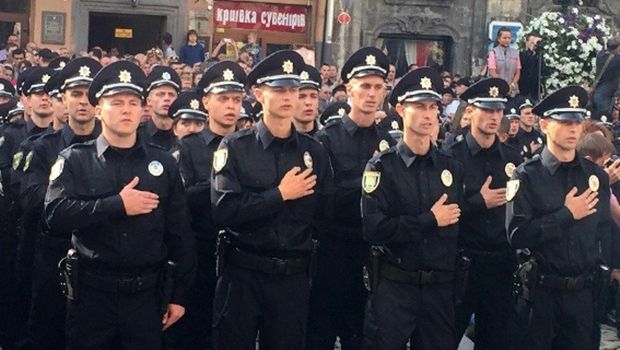 Lviv's brand new police number over 400 officers / Photo from Ukraine's Interior Ministry
The official oath-taking ceremony was attended by Ukrainian Prime Minister Arseniy Yatsenyuk, Interior Minister Arsen Avakov, First Deputy Interior Minister Eka Zguladze-Gluksmann, senior officers of the Interior Ministry's main department in Lviv region, and senior local authorities.
Having sworn the oath, 406 police officers started patrolling Lviv.
The official ceremony, which took place near Lviv's Town Hall, was observed by several hundred residents of Lviv, who came to Market Square with national flags of Ukraine.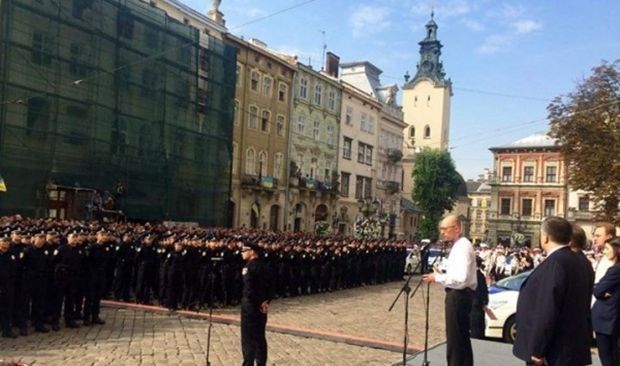 Photo from hromadske.tv
Addressing the public, Yatsenyuk said Lviv had got its brand new police after Kyiv. "These are not just [police dressed in] new uniforms, this is a new format of work, which, step by step, will change Ukraine," he said.
Interior Minister Avakov said in turn that only 9.8% of those who served for the old police would stay to work in the city's patrol police. He also noted that Lviv had seen the highest competition for the new police, as there were 30 job seekers per vacancy. A total of 13,000 applications were submitted, and only 600 candidates were shortlisted.
"Lviv residents have applauded the new police today... It's the beginning of their work now, and it depends on them alone how well they will serve for the state and people. The old police, which have got many good professionals, will be given a chance of continuing the service if they are open for change and are willing to reform the approach to their work," Avakov said.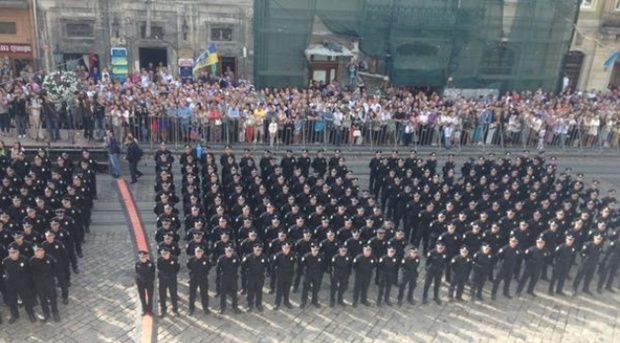 Photo from hromadske.tv
Lviv Mayor Andriy Sadovy said that chief of the new patrol police in Lviv Yuriy Zozulia "will enjoy the mayor's full support in everything."
Max TV footage
The new patrol police will use 50 Toyota Prius cars, the regional police's press service said.
Female police officers account for 20% of Lviv's brand new police, it said.
Among them is Iryna Kulchytska, the daughter-in-law of Major General, Hero of Ukraine awardee Serhiy Kulchytsky, a resident of Lviv, who was killed in a helicopter downed by Russian-backed militants near the town of Slovyansk in the country's east on May 29, 2014.
She successfully passed all the rounds of the new police competition and was appointed deputy commander of the third squadron of the first battalion of Lviv's brand new police.
Iryna Kulchytska's interview to Max TV (Ukrainian language)
During the oath-taking ceremony, Premier Yatsenyuk presented flowers to Iryna Kulchytska and wished her successful service.
Photo from the Interior Ministry, lv.20minut.ua