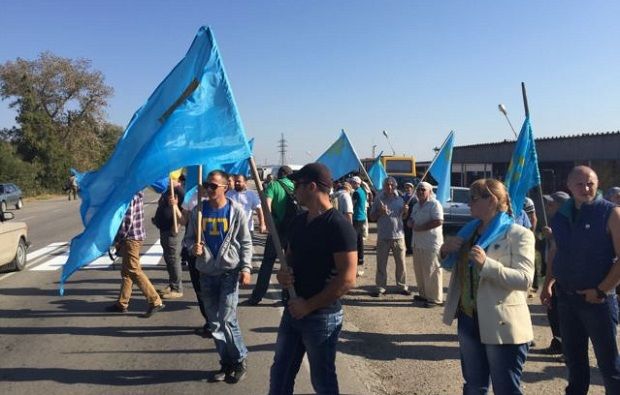 The blockade will be held in three stages / Photo from Ayder Muzhdabaev
Activists from the pro-Ukrainian volunteer self-defense Samooborona group of the city of Skadovsk have blocked the road 6 km from the Kalanchak checkpoint, an UNIAN correspondent reported.
The activists have been halting traffic of trucks to and from Crimea. "We won't let any truck drive through. These moneymakers are getting profit while our fellows are serving at the front," chief of Skadovsk's Samooborona company Volodymyr Kurikov said.
The activists are constantly crossing the road at a pedestrian crossing, thus halting the traffic.
Traffic police and State Border Service personnel are present at the site, but they do not interfere in what has been happening.
The activists are awaiting the arrival of representatives of the Mejlis of the Crimean Tatar People led by Refat Chubarov and Mustafa Dzhemilev.
Heads of the Ukrainian Interior Ministry's Kherson regional department are also expected to arrive.
The activists jointly with the Crimean Tatars will coordinate their further action.
The Coordinating Council of the Crimea blockade campaign claims that pedestrians and passenger transport will be allowed to freely cross the administrative border between mainland Ukraine and occupied Crimea.
At least 1,000 people are expected to participate in the blockade of the administrative border with occupied Crimea on the first day of the campaign, according to Mejlis leader Chubarov.
"I expect at least about 1,000 people will come today. These are those we know about. We are blocking all the three directions ‒ Kalanchak, Chaplynka and Chonhar (all in Kherson region, Ukraine) ‒ as of noon sharp," he said at a meeting prior to the launch of the blockade, according to Ukrainian news agency RBC Ukraine.
Chubarov announced that the campaign would be held in three stages. "A rally has begun. The rally is the first stage. There will be the second and third ones. As for duration and formats, we'll be in consultation with all those who have come here, with the headquarters and representatives of the Mejlis," he said. In his words, the campaign will depend on many factors.
Chubarov also called on the Ukrainian Cabinet to address the issue of creating the so-called food hubs in Ukrainian territory close to the administrative border with occupied Crimea. In his words, this will allow entrepreneurs to work transparently, and money will remain in Ukraine, namely in Kherson region.
As UNIAN reported earlier, the leaders of the Crimean Tatars announced on September 8 that they would block the administrative border between mainland Ukraine and Crimea to prevent Ukrainian commodities from being delivered to the occupied peninsula.