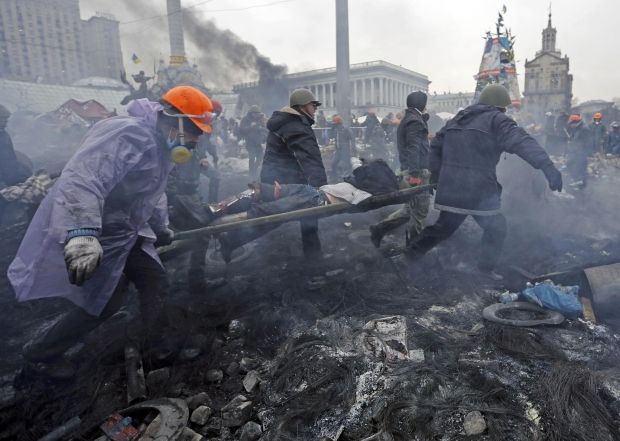 REUTERS
"I am scared and ashamed to hear that once again, all those who stood on the Maidan, are being shot in the back," said Nalyvaichenko.
According to Nalyvaychenko, back on May 8, 2015, the SBU officially handed the documents over to the Prosecutor General's Office showing that on February 20-21, 2014, Vladislav Surkov, Putin's adviser, was in Ukraine using the passport issued at the name of Aslanbek Dudayev. He was accompanied by six Generals from Russia's Federal Security Service (FSB). He was met by SBU General Byk, who is now under arrest. According to Nalyvaichenko, Surkov's accommodation was paid from the state budget.
Read alsoSBU: Putin's adviser and FSB officers involved in Maidan killings"All these materials were handed over in letter reg.No.468 of May 8, 2015. On the second page of the letter [to the PGO] it is pointed what type of sniper rifles were brought in and in what kind of cases. Surkov personally met with the then head of the SBU Oleksandr Yakymenko [who fled to Russia after the Maidan events]," said Nalyvaichenko.
In addition, in a letter reg.No.467 the SBU handed over to the PGO evidence and draft suspicion notices against a separatist, Surkov's assistant Artsenber, who "is now trying to launch a separatist 'Sabbath' in Odesa," said Nalyvaichenko.
"It's not only the PGO and the SBU who has information on Surkov. We have informed the lawyers of the victims of the "Heavenly Hundred," and the heads of parliamentary committees. We will not let the case be hushed up. This is the Rubicon," said Nalyvaichenko.
As UNIAN reported earlier, Prosecutor General Viktor Shokin declared that he has no information confirming the data provided by Nalyvaichenko on the Russian trace in the shooting of the Maidan protesters [the so-called "Heavenly Hundred"].
In turn, ex-chief of the SBU Valentyn Nalyvaichenko dismissed the Shokin's statement on the alleged absence in the case file of evidence proving presence of the Russian special services.