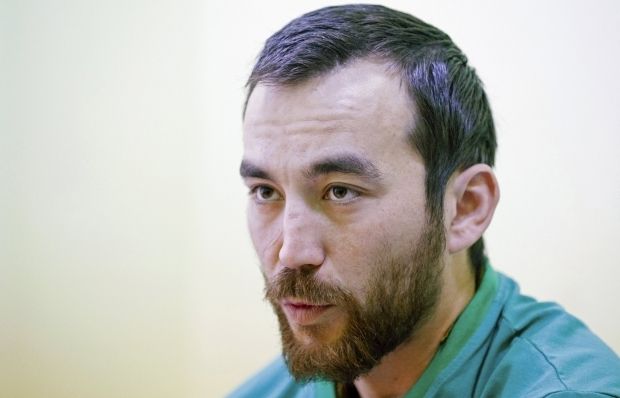 REUTERS
The decision was taken by a panel of judges at a preparatory meeting, according to an UNIAN correspondent.
The court also issued a tentative schedule of the next court hearings on this case: at 14:30 on November 12, November 17, November 19, and November 23.
In addition, Kyiv's Holosiyivsky District Court ruled Yerofeyev and Aleksandrov should be kept in remand for another 60 days, until January 2, 2016.
Thus, the judge rejected the defense's motion, in particular, to change the preventive measure for the GRU officers to house arrest, as well as to postpone consideration of the case until a decision on an administrative claim for recognition of the defendants as prisoners of war.
As UNIAN reported earlier, two Russian GRU officers Aleksandrov and Yerofeyev were captured by Ukrainian troops near the town of Schastia in Luhansk region on May 16. They were injured in a shootout. Ukrainian soldier Vadym Puhachov was killed in a fight with them.
On May 18, the then SBU Chairman Valentyn Nalyvaichenko said that the Russian military would be put on trial under Article 258 of the Criminal Code of Ukraine for their participation in a terrorist organization.
On May 22, Kyiv's Shevchenko District Court ordered that Russian citizens Aleksandrov and Yerofeyev should be kept in custody until the investigation is under way.
On July 29, they were transferred from hospital to a pre-trial detention center.
On August 26, Chief Military Prosecutor of Ukraine Anatoliy Matios said that an investigation into the case of the two Russian GRU officers captured by Ukrainian troops in the Donbas conflict zone on May 16 was over, and the indictment against them might be sent to court within 10 days.
In addition, Matios said that the prosecution would ask the court to impose the maximum penalties for Aleksandrov and Yerofeyev.
On September 29, Kyiv's Holosiyivsky District Court ruled to send the case of the two Russian GRU officers to the High Specialized Court of Ukraine for Civil and Criminal Cases to determine jurisdiction.
The Russian officers' lawyers appealed to the court to return the indictment to the prosecutor's office due to "wrong jurisdiction." According to them, the case must be heard by a court located in the area of a crime scene, i.e. by one of the courts of Luhansk region.
On October 15, the High Specialized Court of Ukraine for Civil and Criminal Cases ruled that the Aleksandrov-Yerofeyev case would be considered by Kyiv's Holosiyivsky District Court.