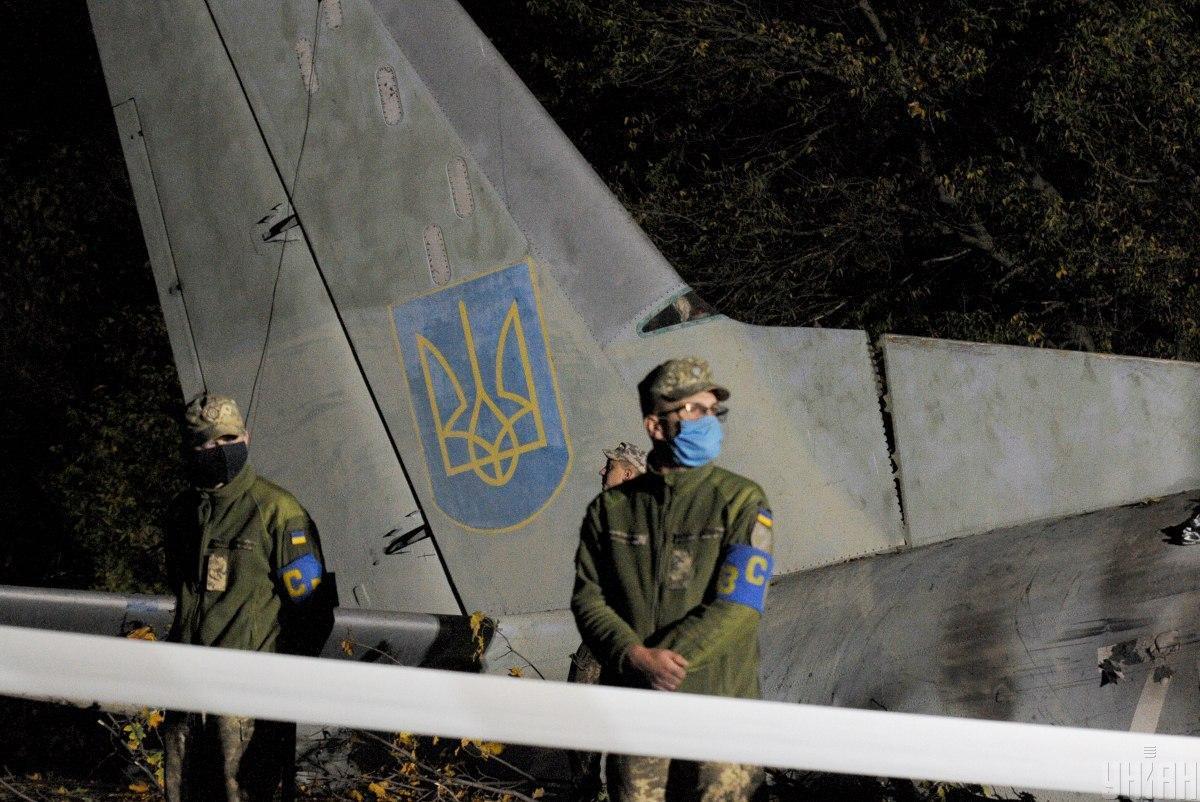 Photo from UNIAN
The State Bureau of Investigation probing last Friday's An-26 plane crash that killed 26 people on board, including crew and air force cadets, is considering several versions of what could have caused the transport aircraft to plunge during landing, including a terrorist attack.
That's according to the chief of the SBI's Main Investigation Department, Maksym Borchakovsky, RBC Ukraine news agency reports.
According to the official, following the initial inspection of the scene and the study of the radio exchange data of the crew and dispatchers, the investigation has come up with four main versions of the crash cause:
Technical malfunction of aircraft units;
Improper performance of duties by crew;
Improper performance of official duties by persons responsible for flight control; and
Inadequate aircraft maintenance and flight preparation.
The investigation will appoint an explosives test to confirm or refute the relevant terror attack theory.
Borchakovsky has also refuted the reports of engine failure.
He added that it was only one of the plane sensors that failed, namely a pressure sensor.
Read alsoMilitary plane carrying cadets crashes in Kharkiv region (Photo, video): UPDATEDAt the same time, he added the wreckage of the plane had been seized by the court as material evidence. So far, the "black boxes" are being decrypted.
What is more, Borchakovsky said the investigation might publish transcripts of radio communications between the pilots and the tower to remove insinuations.
He said about 50 persons, including the only survivor, the air force cadet, had already testified to the SBI.
The bodies of cadets killed in the crash will be handed back to their families before the end of the week after DNA tests are completed.
An-26 crash in Chuhuiv: Background
The military plane crashed by the highway while approaching the Chuhuiv military airfield late on September 25.
Kharkiv Air Force University's crew and cadets were on board – a total of 27 people.
Twenty-five were killed at the crash site and one of the two survivors later died in hospital. The only survivor is still undergoing treatment with no threat to his life reported.
Read alsoCCTV camera captures last seconds of tragic An-26 flight before crash (Video)According to the SBU Security Service, the plane's captain reported left engine failure to the tower and requested an approach to land shortly before the crash.
Ukraine's Defense Minister Andriy Taran, citing aviation experts, said one of the sensors in the engine of the An-26 transport military aircraft failed, as a result of which the plane's wing caught on the ground as it was approaching the airfield near Chuhuiv before plunging and setting ablaze.
The An-26 that crashed on September 25 was manufactured in 1977. It had been operated as a training aircraft for the Air Force.