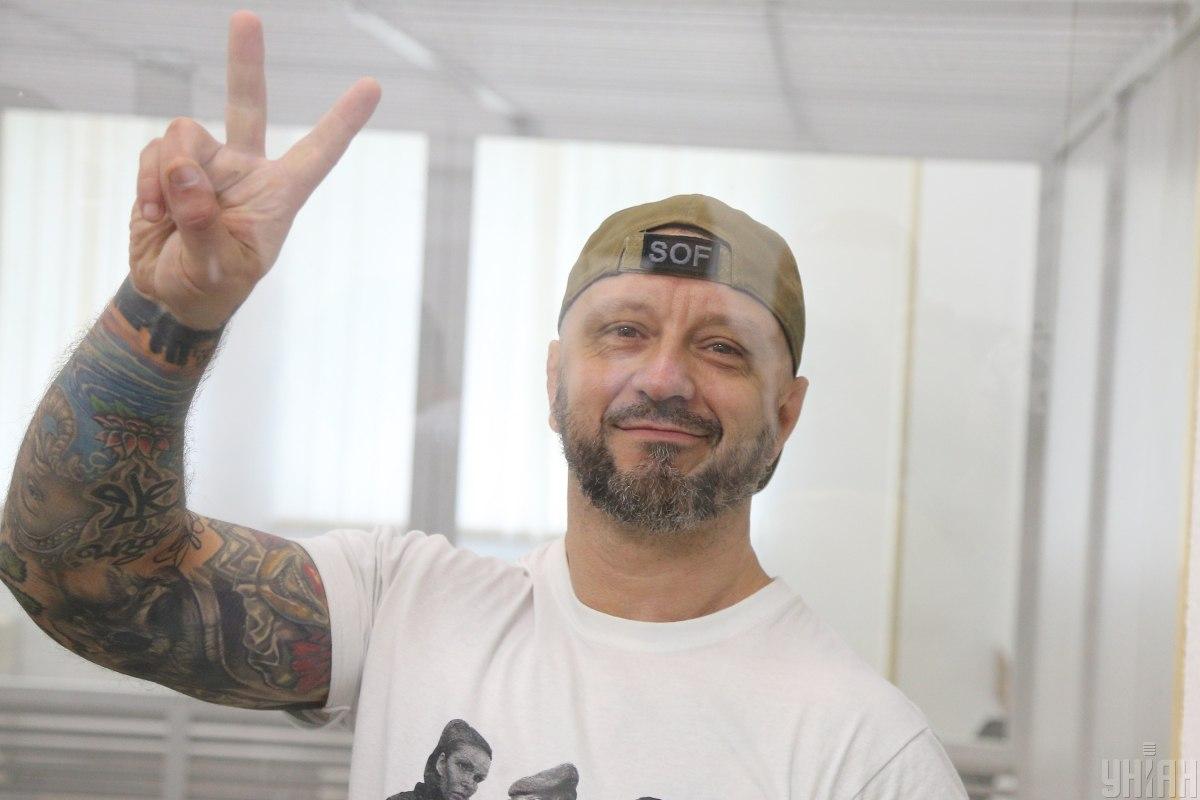 Andriy Antonenko / Photo from UNIAN
The Kyiv Court of Appeal ruled to extend custody period for one of the suspects in a high-profile case of journalist Pavlo Sheremet's murder, Donbas war veteran and rock musician Andrii "Riffmaster" Antonenko.
He is being accused of organizing the car blast that killed the acclaimed journalist in Kyiv in 2016, an UNIAN correspondent reports.
Antonenko has denied all charges.
Only lawyers and prosecutors were allowed into the courtroom, while journalists and pubic were told to stay out, whereas the court hearing was broadcast on the screen.
The lawyers appealed the decision to extend custody term, noting the lack of any risks to the investigation, as claimed by prosecutors.
Read alsoZelensky: Avakov must bring Sheremet murder case to end
Speaking in court, Antonenko said he did not intend to hide from judiciary and investigation and would report at first notice.
The panel of judges ultimately ruled to keep Antonenko in custody.
Antonenko's supporters were heard chanting "Shame!"
Sheremet case: background
Sheremet was assassinated in a car blast in the center of Kyiv on the morning of July 20, 2016.
On December 12, 2019, police said they suspected five persons of complicity in the crime: former Donbas war volunteer and musician Andrii Antonenko, army volunteer and pediatric surgeon Yulia Kuzmenko (nom de guerre "Lysa," or "Fox"), a nurse with a paratrooper unit Yana Duhar, and a family couple of army volunteers Inna Hryshchenko ("Puma") and Vladyslav Hryshchenko ("Bucha").
Law enforcers claim that the Sheremet assassination aimed to destabilize social and political situation in Ukraine. Antonenko, Kuzmenko, and Duhar were charged on December 12, 2019.
Ukrainian investigative journalists with the Slidstvo.info project said they had found the forensic report used in the probe into the murder of Sheremet far from being unambiguous, while evidence presented by the police was dubbed unconvincing. Many Ukrainian public activists consider the proof collected by investigators inconsistent.
According to the head of the Sense Consulting law firm Leonid Maslov, whose lawyers represent Antonenko, the charge papers were amended to remove such phrasing as "ultra-nationalist ideas" and "greatness of the Aryan race". The updated version says "unidentified persons driven by personal motives, decided to create a highly reverberating event with the aim of further provoking numerous protests." These unidentified persons "involved" Antonenko, Duhar, and Kuzmenko.
On August 11, pre-trial restrictions for another suspect in the case, volunteer and pediatrician Yulia Kuzmenko, were eased from custody remand to house arrest.