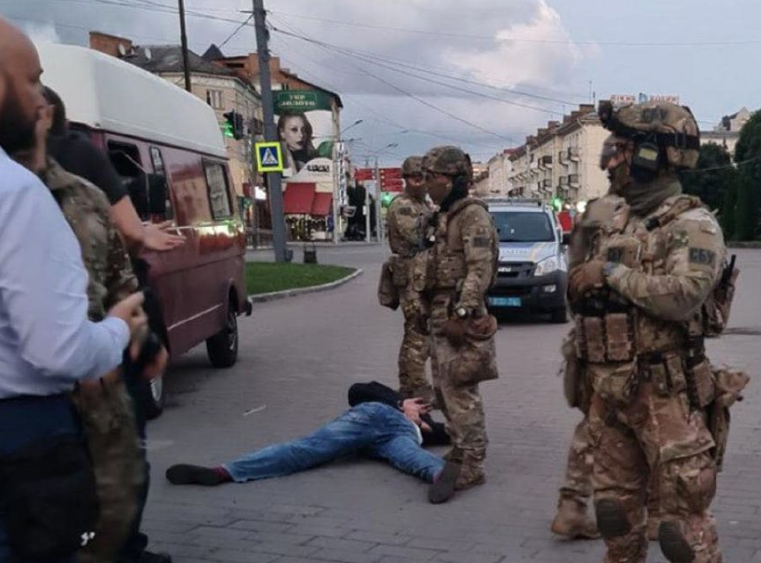 Anton Gerashchenko / Facebook
Presidential spokesperson Yulia Mendel has elaborated on Volodymyr Zelensky's move to call the gunman who was holding hostages after seizing a commuter bus in Lutsk.
"The President has kept the situation under control since morning. Consultations with the security forces began right away. During the reception of the President of Switzerland, there were constant breaks in order to clarify the developments," the spokesperson told RFE/RL's Ukrainian service.
She clarified that several options were on the table.
"It was very important for him to understand what that person wants and what is his psychological portrait. The whole strategy was aimed at saving lives," Mendel said.
The president, she says, studied the hostage-taker's requirements, the consequences of recording a video [the terrorist demanded that Zelensky upload on social networks a clip where he would endorse an Earthlings documentary, narrated by Joaquin Phoenix], and potential harm that could be done.
Read alsoZelensky reveals details of special operation in Lutsk (Photo, video)
"When in the afternoon a decision was made to pursue with recording the clip, it was Volodymyr Oleksandrovych [Zelensky]'s personal move. And this was the deal. I'd like to emphasize that as part of that deal, the terrorist was supposed to take the first step – to release three hostages," Mendel added.
When asked if the President's Office is prepared to further face other perpetrators demanding anything in such manner, Mendel noted that each case should be considered individually.
"In this case, it was a calculated strategy. Let's hope that such situations won't repeat. But all these risks were taken into account and I wouldn't want to act as someone who reads the tea leaves, so let's consider each case separately," she stressed.
As UNIAN reported earlier, on the morning of Tuesday, July 21, a gunman, later identified as Maksym Kryvosh, 44, a convicted felon, seized a commuter bus with 13 passengers on it, taking them hostage. At about 22:00 the same day, the culprit surrendered and all hostages were released unharmed.