Russian propaganda TV channel Zvezda, operated by the Ministry of Defense of the Russian Federation, is now airing a preview to a TV show set to demonstrate capabilities of a new Russian tank T-90M "Proryv 3".
During live-fire test, the target chosen for the T-90M was the Ukrainian-made T-64 BM Bulat tank, which is in service with the Ukrainian army.
It has not been specified why it was the Ukrainian tank that had been chosen for the show.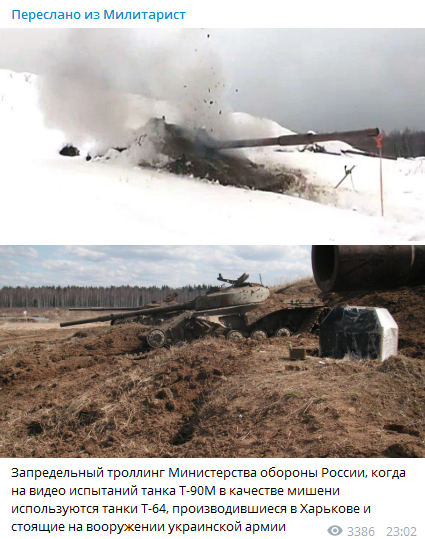 Bulat is the main battle tank used by the Ukrainian Armed Forces, a modernized machine produced at the Kharkiv-based Malyshev Plant, which is often seen as a competitor to Russia's T-72 model.
Read alsoUkraine army conducts major tank exercise (Photo)
Earlier it was reported that the Malyshev Plant produced more than a hundred modernized T-64 tanks of the 2017 model. Now it is being supplied to the Armed Forces of Ukraine.