BBC journalist at Donetsk airport: "This is what Armageddon feels like"
The BBC's Tom Burridge has been to Donetsk's former airport, which has been devastated by the fighting between the combined Russian-separatist forces and the Ukrainian army. "This is what Armageddon feels like," he exclaimed while walking through the airport's remnants.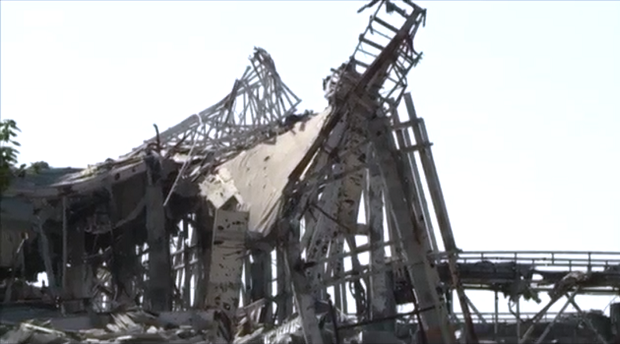 Donetsk airport's remnants / Screenshot from BBC footage
In February 2015, the Ukrainian Donetsk airport defenders, who were nicknamed 'cyborgs' for their courage and stamina, were forced to retreat after a long-lasting standoff, which continued for 242 days, while the defense of Belarus' capital, Minsk, during World War II lasted for four days, the defense of Brest Fortress in Belarus by the Soviet army against Hitler's German forces continued for 29 days, that of Kyiv for 81 days, and of Stalingrad, Russia, for 200 days.
Now the ruined facilities of the Donetsk airport, which just three years ago was welcoming UEFA Euro 2012 guests, is the place of the stationing of fighters of the so-called Donetsk People's Republic. There are fierce exchanges around the airport almost every day.
The BBC's footage is available here.
If you see a spelling error on our site, select it and press Ctrl+Enter