Ukraine fears 'big war' amid Russia sends in more troops - The Independent
16:12, 17 August 2015
War
Military authorities in Ukraine believe the number of Russian troops close to its borders has risen to more than 50,000 people, raising fears of a substantial escalation in the conflict raging in Ukraine's eastern regions, The Independent reports on Sunday.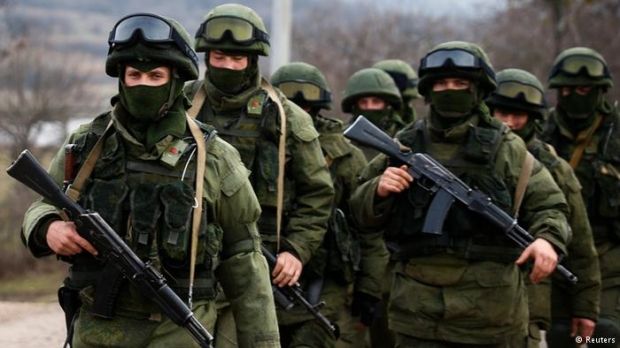 REUTERS
"Almost 9,000 Russian Federation Armed Forces personnel are believed to be based inside Ukraine, according to reports from the country's National Security and Defense Council (NSDC) seen by The Independent on Sunday. The rest are based in the neighboring Rostov region of Russia, including mechanized assault units and communications command systems," writes Adam Nathan, the article's author.
This is in addition to 33,400 so-called "illegal armed formations" of Russian-backed separatist soldiers inside eastern Ukraine, with 400 main battle tanks and close to 2,000 armored troop carriers reported to be at "full combat readiness."
Western countries have repeatedly accused Russia of becoming involved in the conflict, a claim Moscow has denied – despite what Ukraine and other observers see as evidence of troop build-up.
Read alsoIs the Kremlin's new offensive in Donbas possible?Western officials have been quick to talk of their "concern" at the rise in the number of attacks and rocket fire between Ukrainian forces and the Russian-backed separatists in recent days. While the levels of fighting have decreased since February when the Minsk ceasefire agreement had been signed, the recent surge is worrying. For example, the firing of banned "Grad" multiple-rocket launch systems restarted last Wednesday evening, with dozens of separate Grad rocket attacks recorded in the end of the week.
Ukrainian military intelligence reports seen by The IoS suggest that 300 Grad missile systems are based inside Ukraine – 200 with Russian-backed separatists and 100 with Russian Federation forces – including a number of rocket systems based inside the Donetsk city football stadium.
The Organization for Security and Co-operation in Europe (OSCE) haves said that its monitors continued to observe ceasefire violations, including the use of heavy weapons, tanks and smaller-caliber weapons. The OSCE said that most of the violence they observed occurred in residential areas, where military positions continue to endanger civilian lives.
As more than six thousand 6,000 people have died in the conflict since it began in April last year, and up to a million others have been displaced, fears of an escalation are significant.
Read alsoDetained Russian officer asks Putin not to disown his soldiersThe NSDC reports set out in detail what Ukraine sees as growing Russian troop numbers, and the social media and Wi-Fi activity of Russian soldiers that places them inside Ukraine, including text messages and phone calls. And some analysts think that this apparent increase in personnel could have an impact on tactics for the separatists.
If you see a spelling error on our site, select it and press Ctrl+Enter