Russia was stalling opening of "Ilovaisk corridor" to organize ambush of Ukrainian troops – Defense Ministry
20:50, 19 October 2015
War
The Russians were delaying the time for providing a corridor for the withdrawal of Ukrainian military from Ilovaysk to organize ambush of the Ukrainian military convoys, that's according to the "Analysis of hostilities in the Ilovaisk area after the invasion of Russian troops on August 24-29, 2014," published on the website of the Ukrainian Defense Ministry on Monday.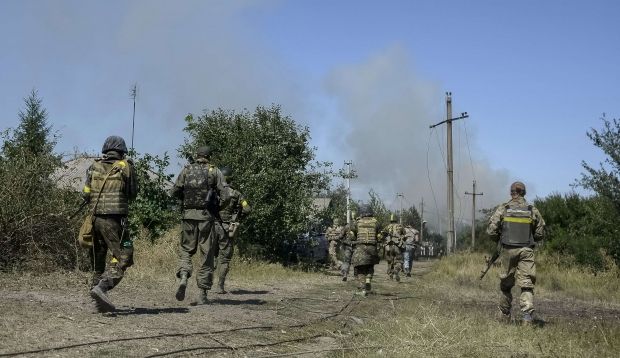 REUTERS
At 04:45 on August 29, the scheduled withdrawal started, but at 6:00 a Russian APC drove into a village of Mnogopillya, and an officer of the Russian Airborne forces has told chief of intelligence of the "South" Operational Command, Colonel Oleksandr Shturko, that conditions have changed, and the Russian side will allow the withdrawal of the Ukrainian troops on one route, without weapons, ammunition, combat and other equipment, according to the released report (full text available in Ukrainian only).
According to the Ministry of Defense of Ukraine, "officers of the armed forces of the Russian Federation have repeatedly delayed the time for the passage [of the Ukrainian troops] through the so-called "green corridor." Only later we became aware that this time was needed for the Russian armed forces to set up ambush, later used to destroy our convoys."
Read alsoUkraine forces in Ilovaisk outnumbered by enemy by 18 times"In the end, the Russian command has confirmed the withdrawal of the ATO forces with sealed weapons. Prior to this moment, the units of the Russian armed forces had taken the advantageous position, and opened direct fire point-blank at the Ukrainian convoys during their withdrawal from Ilovaysk. Despite extremely critical conditions, many Ukrainian soldiers engaged in an unequal battle outside the villages of Chervonosilske in Amvrosievka district and inflicted significant losses upon the Russian armed forces," reads the report.
Read alsoMatios: Kyiv court rules to arrest in absentia Russia's top military official As UNIAN reported earlier, the Ministry of Defense has released on Monday the analysis of combat operations in the Ilovaisk area following the invasion of Russian troops on August 24-29, 2014.
In late August, 2014 after fierce hostilities, the ATO forces were surrounded near Ilovaisk in Donetsk region.
The Russian military shelled the corridor used by the Ukrainian troops for withdrawal according to the reached agreements.
The Ukrainian military suffered heavy losses. According to the official figures, 366 Ukrainian soldiers were killed, another 249 wounded, 128 were captured and 158 went missing. At the same time, the parliament's temporary investigative commission estimates the death toll at 1,000.
If you see a spelling error on our site, select it and press Ctrl+Enter