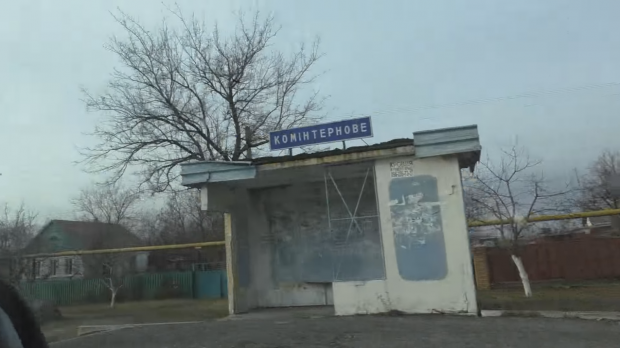 Kominternove was reportedly occupied by the combined Russian-separatist forces late in December 2015 / Screenshot from youtube.com
"Armed 'DPR' members at a checkpoint in the vicinity of Kominternove (23km north-east of Mariupol) stopped the SMM and denied access, citing security reasons due to alleged sniper activity in the area," the OSCE SMM said on January 8 in its update based on information received as of 19:30 local time on January 7, 2016.
OSCE monitors also reported that a 'DPR' member, who presented himself as the checkpoint 'commander,' at the western entrance to Kominternove stopped the SMM and denied access referring to orders he had received from his superior.
"At a checkpoint in Zaichenko (25km north-east of Mariupol, 4km east of Kominternove), five 'DPR' members denied the SMM access to Kominternove," the update said.
What is more, OSCE monitors said that in Kominternove they had heard one undetermined explosion in an area north-east of its position.
OSCE SMM's earlier updates said the monitors had seen from 10 to 15 armed militants in the village before.