Russian jets engage insurgent alliance in Syria: media
13:19, 01 October 2015
World
Russian jets on Thursday bombed rebel positions in Syria, including rural areas near the northwestern town of Jisr al-Shughour, held by an alliance of insurgents including al Qaeda's Nusra Front, Lebanon-based al-Mayadeen TV said, The Daily Mail has reported citing Reuters.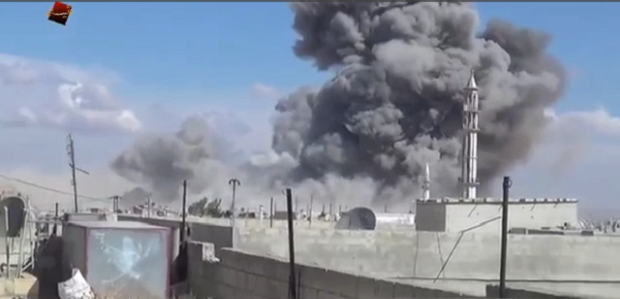 Screenshot
The jets carried out at least 30 strikes targeting the "Army of Conquest", it said in a newsflash. The strikes targeted the militants, a newsreader from the pro-Damascus channel said, the report says.
The channel said strikes also hit other areas in Idlib province, including the Zawiya Mountain region, as well as areas in Hama province further south. The pro-opposition Orient News channel said Russian strikes hit rebel positions in the Hama countryside.
Russia began air strikes in Syria on Wednesday in a major escalation of the more than four-year conflict, hitting rebel groups in the country's west, including Homs province.
Idlib is of greater strategic importance due to its proximity to President Bashar al-Assad's heartland in Latakia province on the Mediterranean coast.
The Army of Conquest had made gains in northwestern Syria alongside other insurgent groups since May, seizing Idlib city and Jisr al-Shughour from government forces and advancing towards the coastal areas.
If you see a spelling error on our site, select it and press Ctrl+Enter