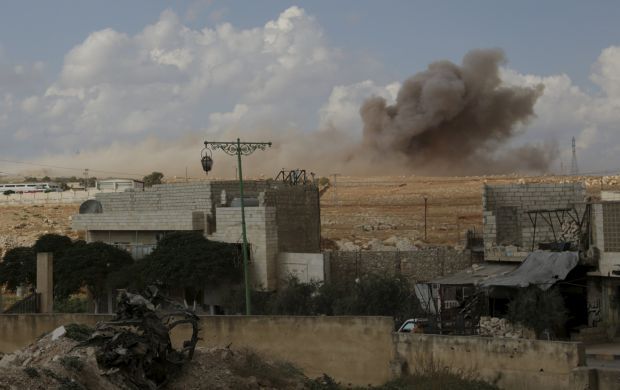 REUTERS
"26 bodies of dead soldiers of the 810 Separate Marines Brigade of the [Russian] Black Fleet's coastal forces (Sevastopol) were shipped from Syria to Sevastopol," reads the statement.
According to the Ukrainian intelligence, Russian command is unable to ensure safe sanitary conditions for deployed soldiers, numerous cases of infectious diseases are recorded among the troops in the territory of Syria.
As noted, the Syrian armed forces units supported by Russian Air Force continue ground offensive in the provinces of Aleppo, Damascus, Latakia, Hama and Homs, establishing control over a number of settlements outside ​​Aleppo. Over the last 24 hours, the airplanes of the Russian aviation group made 33 sorties in Syria and performed missile and bomb strikes on 49 targets.
However, according to the report, Russia continues to build up its military presence, as an IL-76 military-cargo aircraft made two sorties to the Hmeimim airbase; a KIL-158 Black Sea Fleet military cargo ship has  passed the Bosphorus and moves to the Syrian coast.
As UNIAN reported earlier, since September 30 the Russian bombers have been performing air strikes on Syrian territory. The Kremlin claims that the strikes target the Islamic state, while the western powers stress that the Russian jets attack Syrian opposition.
According to media reports, the Russian air strikes in Syria accompany a ground offensive of Bashar al-Assad's troops.
On October 7, Russian Defense Minister Sergei Shoigu reported to Russian President Vladimir Putin on a naval launch of cruise missiles against targets in Syria from the Caspian Sea.