Security can be bypassed at Sharm for GBP 20 – British passengers
16:00, 06 November 2015
World
A couple of Britons have told Sky News how they bypassed security at Sharm el-Sheikh Airport for GBP 20 in early 2015.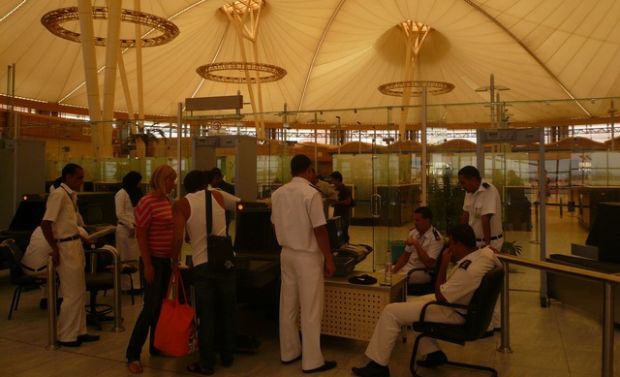 dolzhenkov.ru
The 47-year-old from Harrogate had been on holiday with his partner, Joanne, in the Egyptian resort earlier this year.
But when they arrived at the airport for their return journey they were shocked at the length of the queues.
It was then they were approached by a security guard who they say offered them the chance to avoid a lengthy wait by paying a GBP 20 fee.
After paying the money they say they were led by the official past the queues and the security gates unchecked, before boarding their flight home.
Parkyn said there had been a big military presence at the airport.
He told Sky News: "The queues were terrific. We said 'Ah, we'd had a really nice holiday, we'd really like to get home, but look at the queues'.
"And then that's when we were approached.
"We'd seen all these personnel carriers and all these people from the Army there, and a guy approached me, sort of slid up to the side of me, who seemed to have a bullet-proof ballistics vest on, covered up with a jumper. He just said 'would you like to avoid these queues?'
"What we did is we discussed it and he then produced a GBP 20 note and said 'have you one of these' and you can avoid the queue.
"We just had one main piece of luggage which was then lifted up and taken through.
"We walked right through the security gates and security procedure, straight through the airport, avoided all the queues, and then he put the case on the conveyor belt and the girl checked us in. At no point did my luggage go through any scanner. When I think now it was bizarre.
"At the time it was quite amusing that for us, for GBP 20, we'd avoided all the queues.
"It was only after listening to the news last night that I realized the gravity of what potentially could have happened.
"We obviously didn't think that at the time. We were just quite pleased to kind of expedite the journey through the airport."
The UK Government suspended flights to and from Sharm on Thursday following a recent crash of a Russian plane there.
David Cameron has said it is "more likely than not" that the jet, which was carrying 224 people, was brought down by a bomb, a suggestion that has been dismissed by Russia and Egypt.
Flights to repatriate UK tourists from Sharm el Sheikh will begin today, with passengers only allowed to bring hand luggage.
If you see a spelling error on our site, select it and press Ctrl+Enter