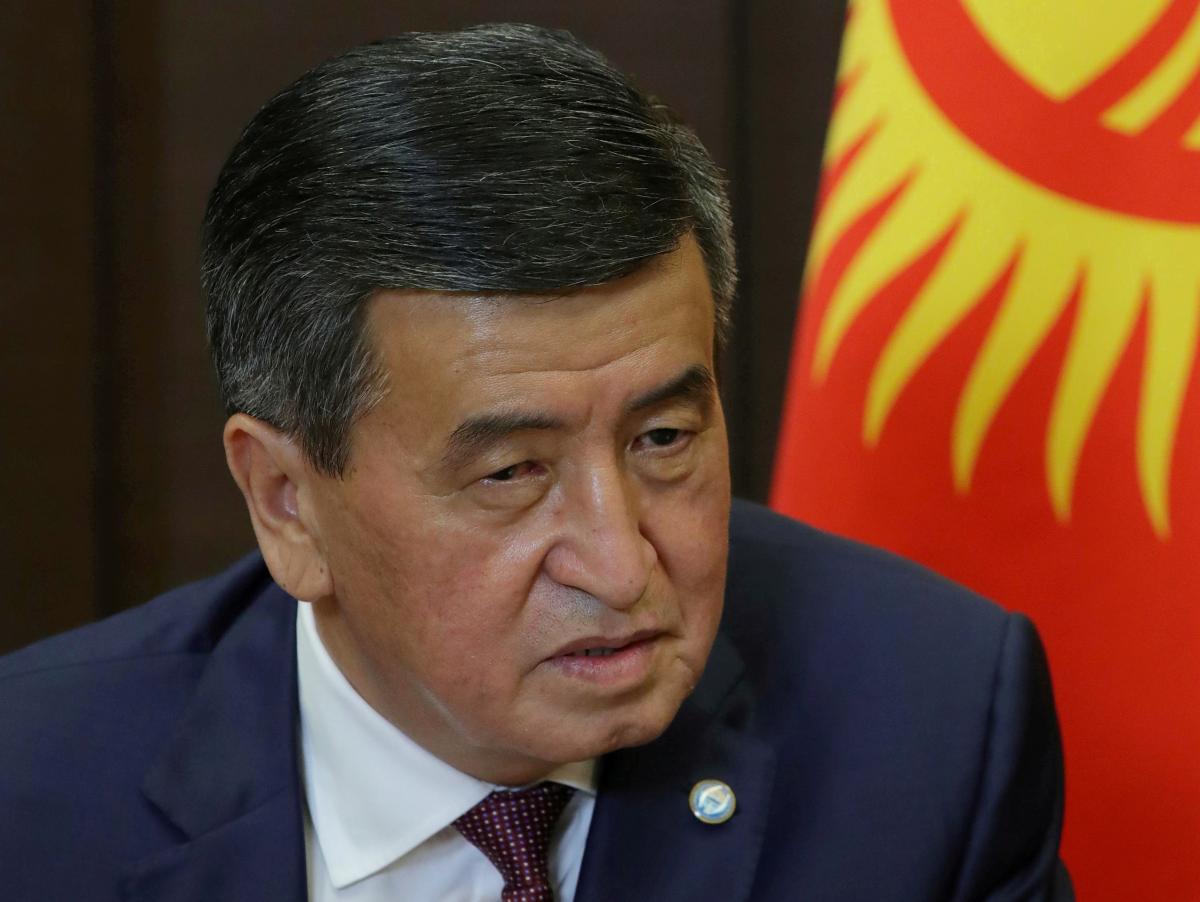 REUTERS
President of Kyrgyzstan Sooronbai Jeenbekov addressed the nation today, October 15, in connection with the latest social and political developments in the country.
The situation in the country, in particular in Bishkek, remains tense, Jeenbekov said, according to KG24.
"Yesterday the Parliament approved the new government composition, I signed decrees of the President of the Kyrgyz Republic on the appropriate appointments. But this didn't ease tensions. Unfortunately, aggression isn't subsiding, demands for my immediate resignation are still in place. The current developments are close to spilling into a bilateral conflict," Sooronbai Jeenbekov said.
Read alsoTikhanovskaya addresses Lukashenko with ultimatumHe notes that there are protesters on the one hand, on the other – law enforcement agencies.
"Military personnel and law enforcement are obliged to use weapons to protect the state residence. In this case, blood will be spilled, it's inevitable. I urge both sides not to succumb to provocation. Peace in Kyrgyzstan, integrity of the country, unity of our people, and public calm are above all for me. There is nothing dearer to me than the life of each of my compatriots," Jeenbekov said.
"I'm not holding on to power. I do not want to go down in history of Kyrgyzstan as president who shed blood and shot his own citizens. Therefore, I've decided to resign," he said.
Kyrgyz protests: Background
Protests have been raging in Kyrgyzstan's Bishkek since October 4 parliamentary elections many believe were rigged.
Some 590 protesters were injured and one killed in clashes with riot police, the ministry of health reports.
As the events unfolded, part of protesters moved to storm the parliament's building, the so-called White House, which also hosts the president's office.
The crowd eventually took over the building after the government security retreated.
In further escalation, the crowd seized the headquarters of the National Security Committee.
Former president Almazbek Atambaev, who in June was sentenced to 11 years and two months in prison on corruption-related charges for 11 years, was freed from the seized building and driven off.
In further developments, protesters also released former prime minister Sapar Isakov, who had been doing a prison sentence for corruption at the Historical Museum and during the modernization of Bishkek CHPP.
Protesters have also released a local nationalist Sadyr Japarov from a penal colony, where he was serving a sentence on charges of hostage-taking and other crimes.
The parliament elected Japarov the country's new prime minister.
Jeenbekov on October 9 introduced a state of emergency in the country and expressed readiness to resign if a number of conditions were met.