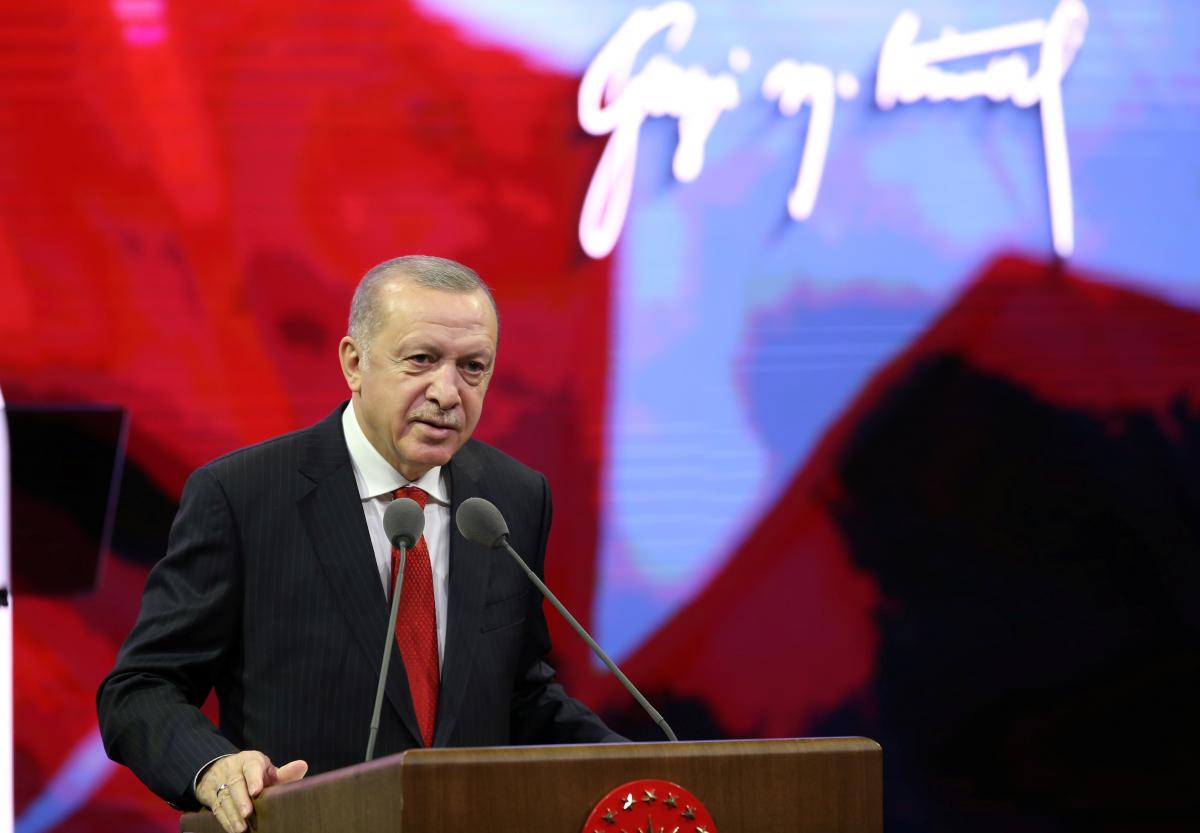 REUTERS
Turkish President Recep Tayyip Erdogan on Tuesday said Turkey together with Russia "will carry out monitoring and overseeing activities" for the ceasefire in Nagorno-Karabakh.
Following phone talks with his Russian counterpart Vladimir Putin, Erdogan added that the relevant Joint Center is to be set up, whose location will be determined by Azerbaijan, Anadolu reports.
He called the latest peace deal inked by Azerbaijan, Armenia, and Russia the "right step towards permanent solution" to the territorial dispute between Azerbaijan and Armenia.
Erdogan said that a "great responsibility falls to the Russian side, too, at this stage."
Read alsoArmenian PM signs peace deal over Nagorno-Karabakh, Russian peacekeepers to be deployedThe Turkish president also stressed the importance of the return of displaced Azerbaijanis to their homes in Upper Karabakh and a corridor be opened between Azerbaijan and Nakhchivan.
The Kremlin's communique released following the talks, however, says nothing about the Joint Center. It says the parties have agreed on "further close cooperation on the implementation of the package of measures" laid down in the deal signed by Russia, Azerbaijan, and Armenia.
Earlier, Kremlin's spokesman Dmitry Peskov denied the reports that a Turkish peacekeeping contingent would be deployed in Nagorno-Karabakh, while confirmed that the Joint Center had indeed been discussed.
Meanwhile, Russia was already reportedly sending to Karabakh at least 10 cargo planes carrying troops and armored vehicles.
Nagorno-Karabakh: Latest
The latest escalation in Nagorno-Karabakh started on September 27.
On November 8, Azerbaijan said it seized a strategically important city of Shusha in Nagorno-Karabakh.
On November 9, Azerbaijan downed a Russian Mi-24 military helicopter over Armenia, close to the border, killing two pilots and injuring one. Baku immediately apologized for what it said was a mistake and offered Russia compensation.
On Monday night, Armenia, Azerbaijan, and Russia signed an agreement to end the war in Nagorno-Karabakh. Armenian Prime Minister Nikol Pashinyan claimed he had no choice but to seal the deal to bring hostilities to a halt.
The move led to major public unrest in Yerevan, where protesters broke through the police cordon and burst into the Armenian Government building, condemning the step.