Eyewitnesses' photo
The Kremlin is deploying its RosGuardia [Russian Guard] troops and paddy wagons to the border with Belarus, an OSINT group has reported.
The Conflict Intelligence Team (CIT), a group of independent investigators of armed conflicts, posted the relevant report on its Facebook page, citing multiple photos and videos shot by eyewitnesses and information coming from journalists.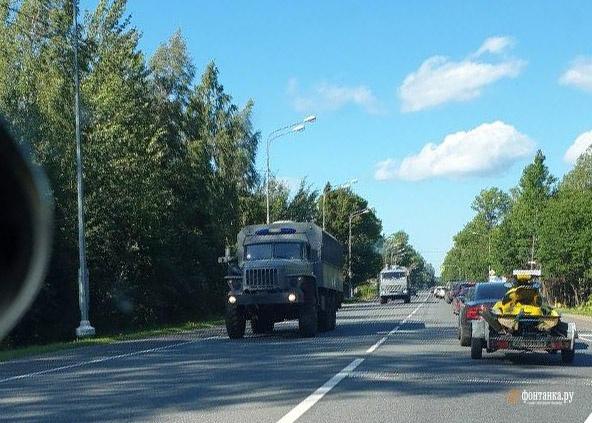 Fontanka
A convoy of heavy vehicles without license plates was spotted by Fontanka newspaper reader on the St. Petersburg-Pskov highway.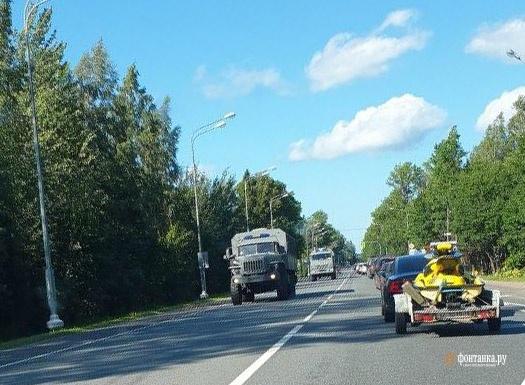 Fontanka
Fontanka
The source said he saw a total of about 30 to 40 trucks and several military SUVs.
According to the expert estimates by CIT, such convoy could carry from St. Petersburg at least 600 troops, which is more than a third of the total number of Belarusian riot police (1,500).
Meduza Live
Another convoy, which was moving towards Belarus from Moscow, was noticed by Meduza readers and a colleague of journalist Vasily Maksimov. It also contained trucks without markings, identical to the vehicles used by the Russian Guard. According to the authors of the video, the convoy driving from Moscow carries men sporting black uniforms without insignia.
The video from Maksimov's tweet contains coordinates pointing to the junction south of Smolensk (83 kilometers from the border with Belarus). At the moment no confirmed reports have come as to whether the convoy has crossed into Belarus.
Сегодня под Питером в сторону Луги (и белорусской границы соответственно) были замечены колонны грузовиков без номеров и обозначений. А это прислал коллега уже из-под Смоленска. Он видел, что внутри люди в черной форме без опознавательных знаков в сторону РБ. pic.twitter.com/ULEtpmdFR9

— vasily_maximov (@maximov_vasily) August 16, 2020
Russian aid to Belarus amid protests
On August 15, Belarusian President Alexander Lukashenko had a phone conversation with his Russian counterpart Vladimir Putin. "When it comes to the military component, we have an agreement with the Russian Federation within the framework of the Union State and the CSTO. These are the points that fit the deal. Therefore, today I had a long, detailed conversation with the President of Russia about the situation. I must say – I was even somewhat surprised – he is absolutely aware of what is happening," Lukashenko noted, according to BelTA.
"And we [Alexander Lukashenko and Vladimir Putin] agreed: at our very first request, comprehensive assistance will be provided to ensure the security of the Republic of Belarus," said Alexander Lukashenko.
In another phone call between the two on Sunday Putin had told Alexander Lukashenko Russia was ready to offer military assistance if necessary, according to Reuters, as demonstrators gathered for the biggest protests against Lukashenko's re-election.
Belarus protests: developments
Following the presidential election held on August 9 and the release of official exit polls claiming overwhelming win of incumbent President Lukashenko (with 80% against opponent Svetlana Tikhanovskaya's 10%), thousands took to the streets of capital Minsk and other cities contesting what many believe is a rigged vote count.
Belarus government went for a hard crackdown on protesters, detaining thousands, of whom many are reported to have been badly beaten and injured while in police custody.
Workers at major industrial enterprises have joined the call for "fair election" and massively went on strike.