Putin must simply read Minsk agreements and implement them – Yatsenyuk
The Ukrainian prime minister says that the Russian president should pull out his mercenaries and withdraw the Russian troops from Donbas.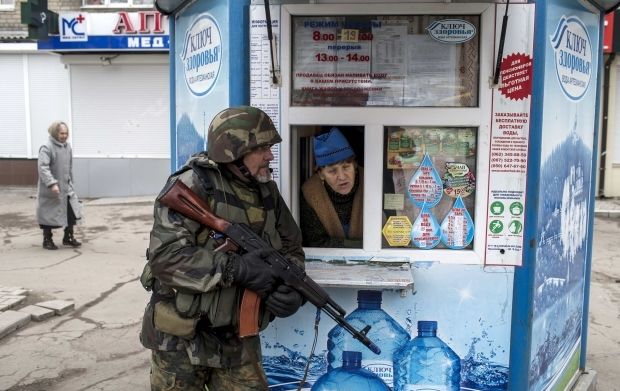 REUTERS
The goal of the Ukrainian authorities is to restore the peace in Donbas and rebuild infrastructure and economy in that region, Ukrainian Prime Minister Arseniy Yatsenyuk said on the air of Ukraina TV Channel.
"Our goal is to restore the peace in Donbas. Peace should be brought to our territory there. We'll have to oust Russian mercenaries and terrorists. People should start living a normal life again," he said.
According to him, "the industry which has been destroyed by bombs and stolen by those plunderers" needs to be rebuilt."
"We need to reinstate our statehood. I'd like this reinstatement to proceed without sacrifices and the killings of Ukrainian soldiers and civilians," the premier said.
About 6,000 people have been killed in the war, over 15,000 have been wounded, Yatsenyuk said.
In his words, a resolution of the conflict is the unconditional fulfillment of the Minsk agreements.
"How could it [the conflict] be settled? Well, [Russian president] Vladimir Putin should simply take the document called the 'Minsk agreements,' read it and do everything it says. [He should] take his mercenaries back, withdraw the [Russian] troops. And the third thing – let's hold democratic [local] elections. Then retain control on the border, restore the economy," Yatsenyuk said.
"We're ready to re-launch the banking sector in Donetsk and Luhansk [regions]," he added.
One more important thing, according Yatsenyuk, is how to win back the minds of the Ukrainians who live in Donetsk and Luhansk regions.
"They've been living under the pressure of Russian propaganda. We need to ensure their access to Ukrainian TV channels - they should watch them, listen to them, and people should get that information. Russia should cease to become an aggressor state and must realize its responsibility for peace and stability before the world. And it should get out of Donetsk, Luhansk, and Crimea - this is our territory," he stressed.
If you see a spelling error on our site, select it and press Ctrl+Enter