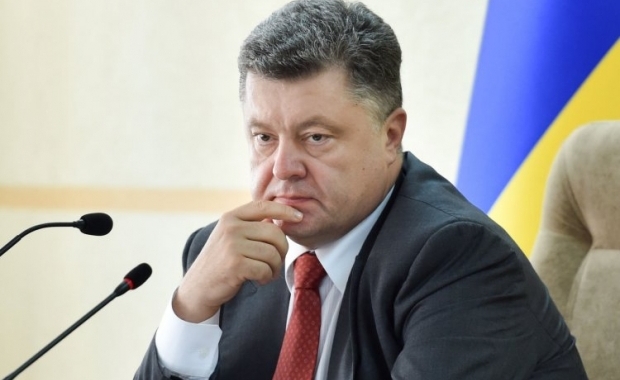 Poroshenko says Ukraine will welcome international observers at its October 25 elections / Photo from UNIAN
The parties "acknowledged the necessity of prolongation or reinforcement of sanctions against Russia in case of further escalation until the complete fulfillment of the Minsk agreements and restoration of sovereignty and territorial integrity of Ukraine," the presidential press service told UNIAN.
Commenting on the situation in Donbas, the MEPs  praised political will and efforts of the Ukrainian authorities in the fulfillment of the peace plan, particularly in the context of drafting constitutional amendments on decentralization and preparation for free and fair local elections across Ukraine, which are scheduled for October 25, 2015. "As president, you defend Ukraine in times of huge challenges for its statehood and create modern identity of your country," MEP Andrej Plenković said.
The Ukrainian president confirmed that Ukraine would welcome international observers, including those from the EP, at the October 25 elections.
The parties also touched upon the issue of human rights violations. The MEPs expressed concern over the ongoing violation of human rights in the temporarily occupied territories of Donbas and Crimea, as well as Russia's deliberate disregard for calls by the international community to free Ukrainian citizens who were illegally detained in Russia, namely Ukrainian pilot Nadia Savchenko and Ukrainian film director Oleh Sentsov.
The sides also spoke out in support of an initiative by Australia, Belgium, Malaysia, the Netherlands, and Ukraine to establish an international tribunal to make those guilty of the downing of Malaysia Airlines MH17 in July 2014 accountable for the committed crime.
The status of the Association Agreement between Ukraine and the EU was also on the agenda of the meeting. In particular, Poroshenko praised Austria's completion of the process of the ratification of the document. He called on the MEPs to facilitate speedy completion of the ratification by all the EU member states.
What is more, he asked for support of the cancellation of the visa regime for Ukrainian citizens in 2016. The president also assured of Ukraine's commitment to the launch of a deep and comprehensive free trade area between Ukraine and the EU as of January 1, 2016.