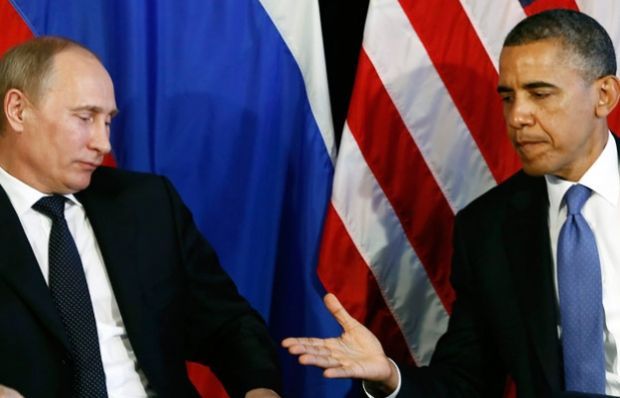 REUTERS
In his State of the Union speech, President Barack Obama bragged that his administration led the international effort to isolate Russia for its invasion of Ukraine. More recently, however, Ukraine has largely disappeared from the U.S.-Russian agenda.
Since Secretary of State John Kerry met with Russian President Vladimir Putin and Mr. Lavrov in Sochi in May, the U.S.-Russian agenda–as addressed in calls between Mr. Obama and Mr. Putin and in numerous meetings between Mr. Kerry and Mr. Lavrov, including two last week–has focused on Syria and Iran.
President Obama told New York Times columnist Thomas Friedman last month that "Russia was a help" on the Iran nuclear deal. 
Mr. Obama, who said he was "encouraged" that Mr. Putin called him to talk about Syria, also said: "I think they get a sense that the Assad regime is losing [its] grip … and that the prospects for a [Sunni jihadist] takeover or rout of the Syrian regime is not imminent but becomes a greater and greater threat by the day. That offers us an opportunity to have a serious conversation with them."
Before U.S. officials get too too hopeful about "serious conversation" with Moscow on Iran and Syria, Russia's track record should be considered: Since 2011, Russia has provided diplomatic and military support vital to keeping Bashar al-Assad in power. More than 230,000 Syrians have been killed in the country's civil war and more than 7 million displaced. In its latest diplomatic overtures, major difference remainover Russian insistence on keeping Mr. Assad in power.
Russia agreed in November to construct new nuclear reactors for the Tehran regime. In April, it reopened a deal for S-300 surface-to-air missiles to Iran. Moscow joined Tehran in insisting that arms and missile embargoes against Iran be lifted as part of the nuclear negotiations. In defiance of an international travel ban, Iranian Quds force commander Qassem Soleimani met with Mr. Putin and other Russian officials in Moscow last month.
And during his travels to the Gulf region last week, Mr. Lavrov met with Hamas leader, an internationally designated terrorist, Khaled Mashaal and invited him to Moscow. 
Read alsoEven after Iran deal, Putin not to get his way in UkraineU.S. sanctions against Russia over its aggression toward Ukraine remain in place, but the Obama administration's isolation of the Putin regime has ended. With Russian violations of the February cease-fire on the rise and Ukrainian casualties mounting, Ukrainians fear they are being sacrificed in the pursuit of broader U.S.-Russian cooperation. By pretending to play a constructive role in the Middle East, Mr. Putin shifts attention away from the havoc he is wreaking in Ukraine. The question is how long it will take U.S. officials to see this.