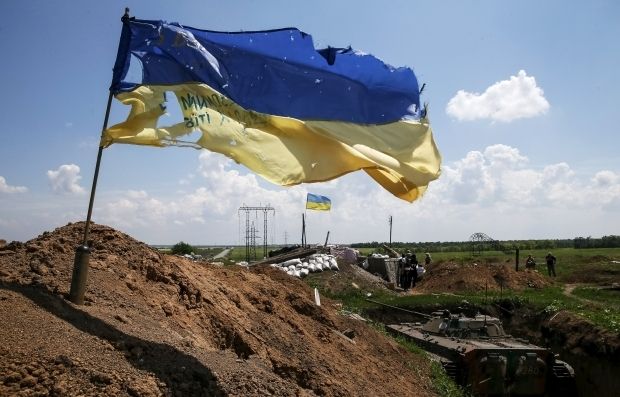 REUTERS
"It's not the first time when Russia accuses others of what it does itself. It was [also] the case with the downed MH17. Russia is trying to cover up the crimes of its military, shifting responsibility for the tragedy onto the Ukrainian Armed Forces," said head of the press center of the General Staff Vladyslav Seleznyov, Ukrainska Pravda reports.
"This time, the Russian investigators distract public attention from the Russian military presence in the territory of Ukraine and [Russian] aggression against a neighboring state, by fabricating criminal cases against Ukrainian military leaders - Defense Minister and Chief of the General Staff, unreasonably incriminating the use of prohibited means and methods of warfare and even genocide," he said.
"The presence of Russian troops in Donbas, their participation in military operations against the Ukrainian army and complicity in the death of civilians (including Russian-speakers) is a proven fact," he said.
Seleznyov said that everyone knows where the Kremlin gets the funds for the militants to conduct hostilities in eastern Ukraine.
"However, the Russian military and political leadership continue to stubbornly deny everything. Over time, the whole truth about the crimes of Russia in Ukraine will be revealed, and the perpetrators will be brought to justice in national or international courts. That's when the whole world will be able to look into the eyes of today's leaders of Russia and its military, who are responsible for shelling residential neighborhoods, the murders of our civilians and soldiers, the downed Boeing, the seizure of foreign territory, aggressive information war, and depletion of Donbas," said Seleznyov.
Seleznyov also called the statement of Russia's Investigative Committee just another step in the Kremlin's information war against Ukraine.
He also commented on accusations against PM Arseniy Yatsenyuk of his "participation in the Chechen war."
"The evidence was provided by Ukrainian political prisoners Mykola Karpyuk and Stanislav Klykh. Obviously, it was given given under pressure - in the best traditions of Stalin's secret police. Of course, such a statement [by chief of Russia's Investigative Committee Bastrykin] is not even worth comment – they are unconditionally ridiculous," said Seleznyov.
As UNIAN reported earlier, the Russian Investigative Committee opened criminal cases against Stepan Poltorak, Viktor Muzhenko, Anatoliy Pushnyakov, Mykola Balan and Oleh Lyashko. They are being accused of genocide of the Russian-speaking population of Ukraine.