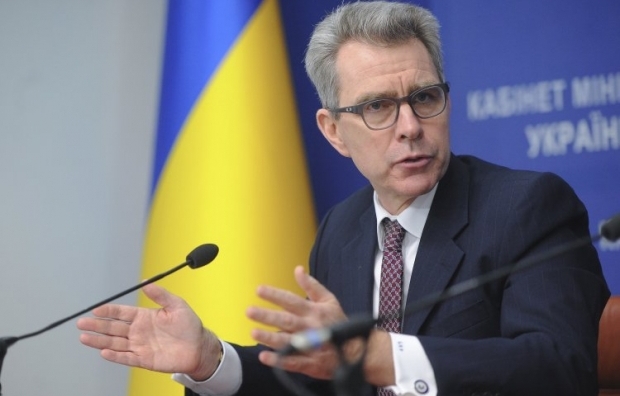 We want to work with Prosecutor General Shokin so the PGO is leading the fight against corruption / Photo from UNIAN
"Rather than supporting Ukraine's reforms and working to root out corruption, corrupt actors within the Prosecutor General's office are making things worse by openly and aggressively undermining reform," said Geoffrey Pyatt, according to the website of the U.S. Embassy to Ukraine.
Pyatt noted that "these bad actors regularly hinder efforts to investigate and prosecute corrupt officials within the Prosecutor General's Office.  They intimidate and obstruct the efforts of those working honestly on reform initiatives within that same office." 
At the same time, the U.S. Ambassador praised the work of the newly-established Inspector General's office in the PGO led by David Sakvarelidze and Vitaliy Kasko. "Their investigations into corruption within the PGO, have delivered important arrests and have sent the signal that those who abuse their official positions as prosecutors will be investigated and prosecuted," Pyatt said.
The Ambassador pointed out the case of former Ecology Minister Mykola Zlochevsky as an example of undermining reform. "The U.K. authorities had seized 23 million dollars in illicit assets that belonged to the Ukrainian people.  Officials at the PGO's office were asked by the U.K to send documents supporting the seizure. Instead they sent letters to Zlochevsky's attorneys attesting that there was no case against him.  As a result the money was freed by the U.K. court and shortly thereafter the money was moved to Cyprus," the diplomat said.
Pyatt stressed: "The misconduct by the PGO officials who wrote those letters should be investigated, and those responsible for subverting the case by authorizing those letters should – at a minimum – be summarily terminated."
The Ambassador recalled other cases, "like those involving Former Deputy Chief Prosecutor Volodymyr Shapakin and Former Prosecutor Kornyets that clearly demonstrate that it is critical to cease intimidation and investigations of investigators, prosecutors and witnesses."
"We want to work with Prosecutor General Shokin so the PGO is leading the fight against corruption," said Pyatt.