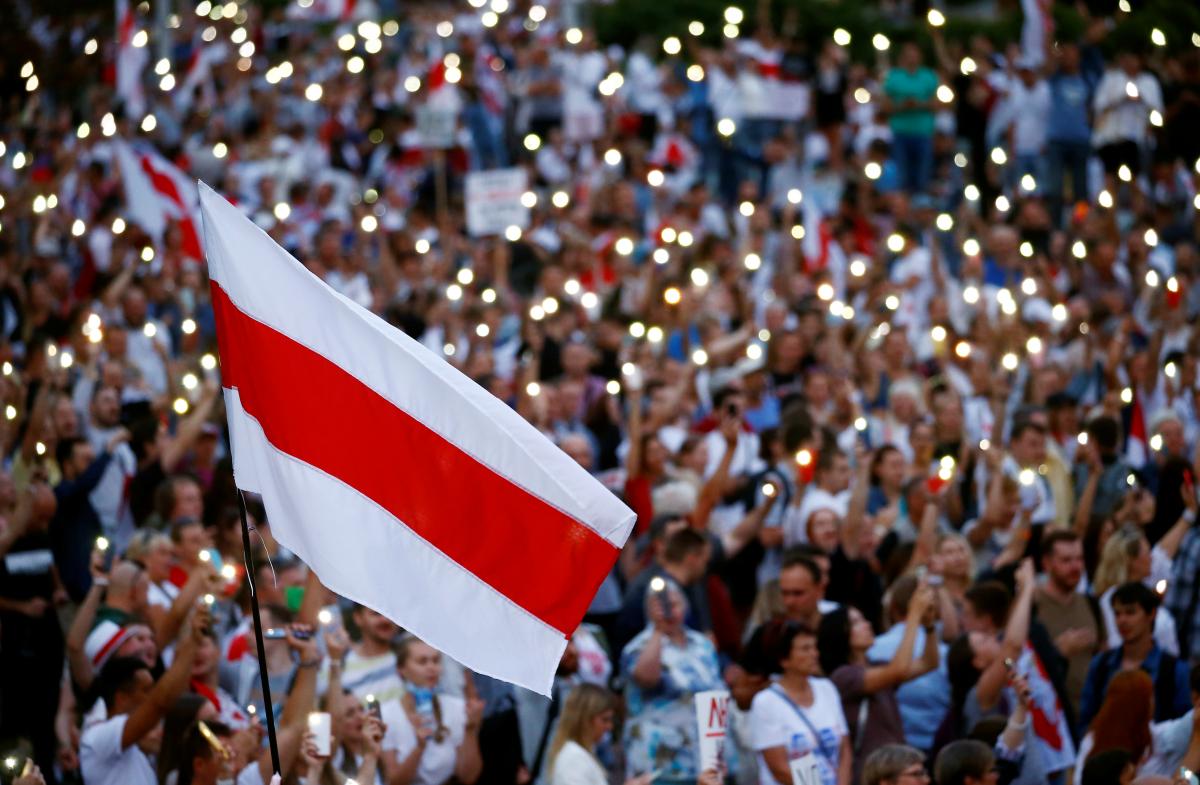 REUTERS
The Office of Ukrainian President Volodymyr Zelensky sees a direct connection between Ukraine's position on the Belarusian conflict and Russia's moves in the Donbas warzone.
Sources of the RBC Ukraine news agency in the President's Office say reaction too harsh may turn into a yet another escalation at the front line and undermine truce deals.
According to a source, Ukraine is in a much more vulnerable position than the European Union member states such as Germany.
Read alsoLukashenko warns Zelensky against "fomenting riots" in Belarus"We have Donbas on the one hand, Crimea on the other, also Moldova and Transnistria, as well as more than a 1,000 kilometer-long border with Belarus in the north. And in all cases, we are dealing with one geopolitical player – Russia – which poses as a de facto 'manager' of Belarus developments. Therefore, we can afford less than the EU can," the source said.
Belarus protests: background
On August 9, presidential elections were held in Belarus. The country's Central Election Commission announced the final election results. In particular, 80.1% of voters supported incumbent President Alexander Lukashenko, 10.1% voted for Svetlana Tikhanovskaya, 1.67% for Anna Kanopatskaya, 1.2% for Andrey Dmitriev, and 1.14% for Sergei Cherechnya. Some 4.59% voted against all candidates.
Thousands of residents of Belarus took to the streets to protest what they believe is a rigged vote count. Riot police violently cracked down on protesters.
Belarus' Ministry of Internal Affairs said about 7,000 protesters had been detained in different cities since August 9. On the evening of August 13, the authorities started to release detainees.
Belarus elections: global reactions
On August 14, the European Union announced it did not recognize the outcome of the presidential elections in Belarus and on August 19 agreed to slap sanctions on Belarus over electoral fraud and violence against protesters.  The EU has called on the Belarusian authorities to find a peaceful way out of the crisis by ending violence and starting a comprehensive national dialogue
Ukraine said it "generally shares" the position voiced by the EU, stopping short of direct non-recognition or recognition of election results.
German Foreign Minister Heiko Maas said the election result must be reviewed and those responsible for mistreatments of peaceful demonstrators must be sanctioned.
Estonia and Lithuania have agreed not to buy electricity from the Belarusian NPPs.
Pope Francis made a special address dedicated to the situation in Belarus, calling for an end to violence.
Canada and Ireland said they did not recognize election results and called for another election to be held.
U.S. President Donald Trump on August 18 said he would talk to Russia about the Belarus protests. "I like seeing democracy," he told reporters, according to Reuters. "It doesn't seem like it's too much democracy there in Belarus."