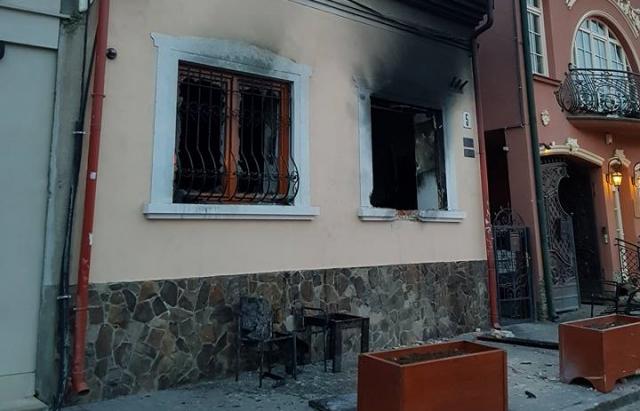 Photo by Ukraine Police
According to the statement released by the Hungarian Culture Association, cited by Zakarpattia online news portal, the Association welcomes the 'OSCE proposal' to set up a special monitoring mission in Zakarpattia region, calling it an "extremely necessary initiative" given the recent developments.
On March 5, Deputy Chairman of the Hungarian Culture Association, First Deputy Chairman of Zakarpattia Regional Council Josyp Barto said the issue of a permanent OSCE mission in Zakarpattia region was being decided on.
"Their delegation is headed by Giorgio Zeljkovic, and I talked with him. We discussed several issues, including a terrorist attack on the office of the Hungarian cultural center. We agreed that after the monitoring he will make an offer to his leaders that the OSCE representatives operate permanently in Zakarpattia region," he said.
As UNIAN reported earlier, ABW, Poland's internal security agency, detained a group of three Poles suspected of an arson attempt at the headquarters of the Hungarian culture center in western Ukraine. The men represent a Polish pro-Russian radical right-wing organization Falanga.
Despite the reports from Poland, Ukraine's ambassador to Hungary was summoned to the Hungarian Foreign Ministry in connection with arson attacks.
On March 6, two suspects in another arson attack on the Hungarian cultural center in Uzhgorod, revealed by Ukrainian law enforcers, were taken into custody for 60 days. The case was qualified as a terrorist attack.
Ukrainian Foreign Minister Pavlo Klimkin has condemned the attempted arson, calling it a provocation
Zakarpattia Governor Hennadii Moskal said that the Russian special services were behind the provocation. "No one has any doubts that the second arson at the culture center was organized by the Russian FSB (as well as an earlier arson on the night of February 4, committed by citizens of Poland, members of the right-wing pro-Russian Falanga organization)," Moskal said.
The incident in Uzhhorod, experts and officials suggest, was a small part of a much wider Russian campaign bent on fomenting ethnic tensions within Ukraine, with the goal of destabilizing the country and antagonizing its NATO-affiliated neighbors, especially Poland and Hungary, according to The Daily Beast.
Earlier, Hungary vowed to block Ukraine-NATO cooperation until Kyiv amends the newly-adopted education law in the part of national minority languages. 
"Basically, what we're seeing in these spats is a clash of populist, assertive governments who consider themselves to be regional powers, and who pander to nationalist sentiments," concludes former intelligence officer Robert Cheda. "For Russia this is a perfect environment."
Minister for Foreign Affairs of Hungary Peter Szijjarto, speaking at the 24th OSCE Council of Ministers in Vienna December 7, called on the Organization's Special Monitoring Mission to conduct constant monitoring of the situation in the western Ukrainian region of Zakarpattia claiming there are "tensions" in the area.