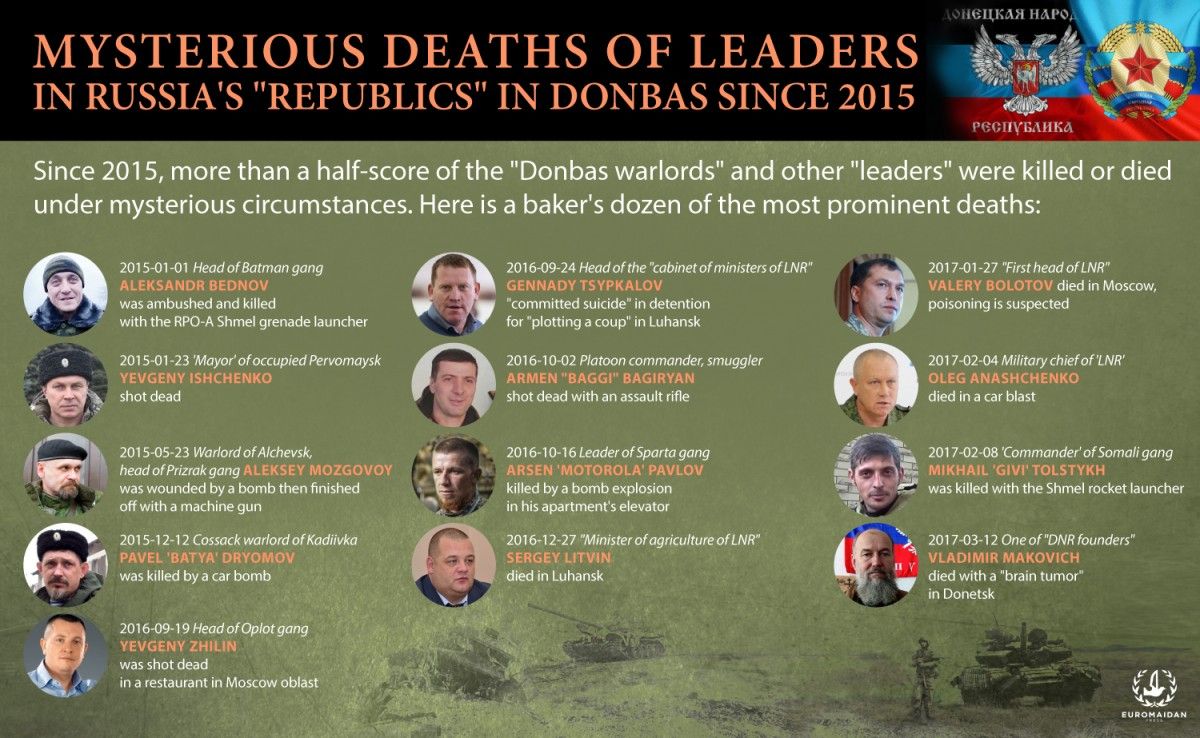 EuroMaidanPress
Jan 1, 2015, Head of Batman gang Aleksandr Bednov was ambushed and killed with the RPO-A Shmel grenade launcher, Euromaidan Press reported.
Jan23, 2015 "Mayor" of occupied Pervomaysk Yevgeny Ishchenko was shot dead in Pervomaysk.
Read alsoSpiders in a jarMay 23, 2015 warlord of Alchevsk, head of Prizrak gang Aleksey Mozgovoy was wounded by a bomb then finished off with a machine gun.
Dec 12, 2015 cossack warlord of Kadiivka Pavel "Batya" Dryomov was killed by a car bomb
Sep 19, 2016 leader of Oplot gang Yevgeny Zhilin was shot dead in a restaurant in Moscow region, Russia
Sep 24, 2016 head of the "cabinet of ministers of LPR" Gennady Tsypkalov "committed suicide" in detention for "plotting a coup" in Luhansk
Oct 02, 2016 platoon commander, smuggler Armen "Baggi" Bagiryan was shot dead with an assault rifle
Oct 16, 2016 leader of Sparta gang Arsen "Motorola" Pavlov was killed by a bomb explosion in his apartment's elevator
Dec 27, 2016 "minister of agriculture of LPR" Sergey Litvin died in Luhansk
Jan 27, 2017 "first head of LPR" Valery Bolotov died in Moscow. Poisoning is suspected
Feb 04, 2017 military chief of "LPR" Oleg Anashchenko died in a car blast in Luhansk
Feb 08, 2017 "commander" of Somali gang Mikhail "Givi" Tolstykh was killed with the Shmel rocket launcher in Makiivka
March 12, 2017 one of "DPR founders" Vladimir Makovich died from a "brain tumor" in Donetsk
There are four main theories explaining the mysterious deaths of Russian warlords, EuromadanPress notes:
1. As a rule, "LPR-DPR authorities" blame Ukrainian DRGs (military subversive groups) or SBU agents for assassinations. This version is voiced on the Russian TV channels as only possible every time a warlord is killed. Ukrainian officials usually deny responsibility.
2. Donbas pro-Ukrainian guerrillas taking revenge can be behind the killings.
3. Infighting among the "elite" of "republics" may be the reason for murders as they seek to augment their power.
4. Russian security services may dispose of the leaders going out of their control, who may become unwanted witnesses for Russia in future.