NATO kicks out Russian spies but revives Kremlin hotline
19:10, 14 August 2015
World
Western military alliance expels dozens of suspected Russian spies from NATO headquarters while upgrading emergency military contacts with Moscow.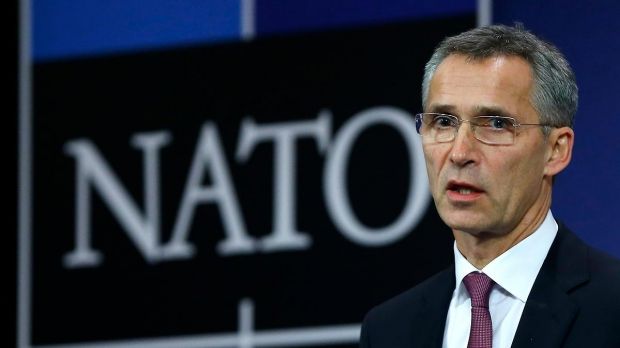 REUTERS
"It's important to have contacts military to military in a normal situation so that if something not normal happens, you're able to clarify misunderstandings, to avoid situations out of control," said Stoltenberg, NATO Secretary General, in an interview with the Guardian, "We're going through the internal procedures to make sure that they're functioning 24/7. They're working and we're making sure that they're in place if they're needed as a result of an incident."
Despite the decision to revive the emergency hotlines, NATO has moved to rid its Brussels headquarters of what are believed to be dozens of Russian spies.
Under a decision taken last month, the size of non-NATO member states' delegations at the Brussels headquarters has been limited to 30. Russia's was the sole delegation that numbered more than 30.
NATO diplomats and officials said privately that about half of the Russian delegates were assumed to be working for their country's intelligence services. Moscow says it had 37 people accredited to NATO headquarters. A NATO member state diplomat said the figure was 61. Other NATO sources put the figure at up to 90.
"With the Russians we have decided to suspend all practical co-operation but to maintain the channels of political and military dialogue and contact. A delegation of 30 is more than enough to do that," said Stoltenberg.
Senior officials confirmed that the move was directly aimed at reducing Russian intelligence-gathering at NATO headquarters, adding that only four Russian officials – the ambassador to NATO, Alexander Grushko, his deputy, his secretary and his driver – were now allowed to move unescorted at the offices.
The bureaucratic moves to curb Russian activities while upgrading emergency military contacts with Moscow reflect the damage done to relations as a result of President Vladimir Putin's military campaigns in Ukraine and come as Putin used Russia's Victory Day celebrations marking the defeat of Nazism to stage the biggest Red Square military parade since the collapse of communism.
"Uncertainty has come back to Europe; Russia again is using force to change borders in Europe. We are adapting to a new security environment in Europe," said the NATO chief.
He added that the Minsk agreements negotiated between Putin and the German chancellor, Angela Merkel, establishing a ceasefire in Ukraine and a roadmap to a political settlement of the conflict, were being undermined by Russian violations.
"Russia has a special responsibility because Russia is continuing to provide support to the separatists [in eastern Ukraine]. They have over a long period provided the separatists with equipment, with advanced equipment, with air-defense systems, with artillery, with tanks and also training, and they have forces inside eastern Ukraine helping the separatists."
If you see a spelling error on our site, select it and press Ctrl+Enter