NYT: Obama-Putin meeting makes sense
14:15, 28 September 2015
World
However distasteful he may find it, President Obama has no choice but to try to work with President Vladimir Putin if there is to be an end to the Syria debacle, just as Obama had no choice but to work with the Russian on the Iran deal, according to The New York Times editorial board.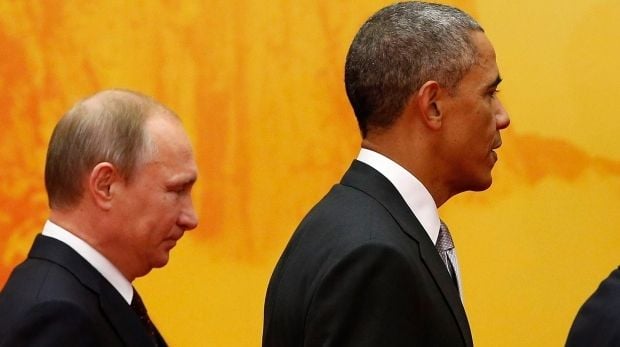 REUTERS
The editorial board of The New York Times writes in its article titled "An Obama-Putin meeting makes sense" that a meeting of the two presidents on the relatively neutral ground of the United Nations General Assembly is the right thing to do.
"It thus seemed puerile for the White House press secretary, Josh Earnest, to portray Putin as a beggar "desperate" for a meeting and to belittle his personal appearance. That is not the way to prepare for a critical meeting," reads the article.
"Still, it is easy to sympathize with Obama. Putin has openly defied international law and Western sanctions by his annexation of Ukraine and support of rebels in eastern Ukraine," the authors say, adding that "his backing of Syria's President Bashar al-Assad is one reason the Syrian civil war has dragged on so long and has created so appalling a humanitarian crisis." 
"The hard truth is that neither Obama nor Putin is on particularly solid ground," the article claims. "The American effort to train moderate Syrians who could roll back both the Islamic State and the Assad forces has been a dismal failure; indeed, it is becoming increasingly clear that ISIS cannot be confronted effectively without a political settlement in Syria between Assad's regime and the opposition, which may mean keeping Putin's client temporarily in power."
As Russia's economy struggles as a result of the Western sanctions, Syria gives the Kremlin "a chance to push Ukraine into the background and mount the global stage as an indispensable player. This, of course, is the role Earnest was seeking to deny him by depicting him as a thuggish supplicant," reads the article.
"Putin may indeed be looking only for a spotlight. But the surest way to find out is for Obama to sit down with him and see whether there is anything Russia and America can do together in Syria. There is nothing demeaning in that," the authors say.
If you see a spelling error on our site, select it and press Ctrl+Enter