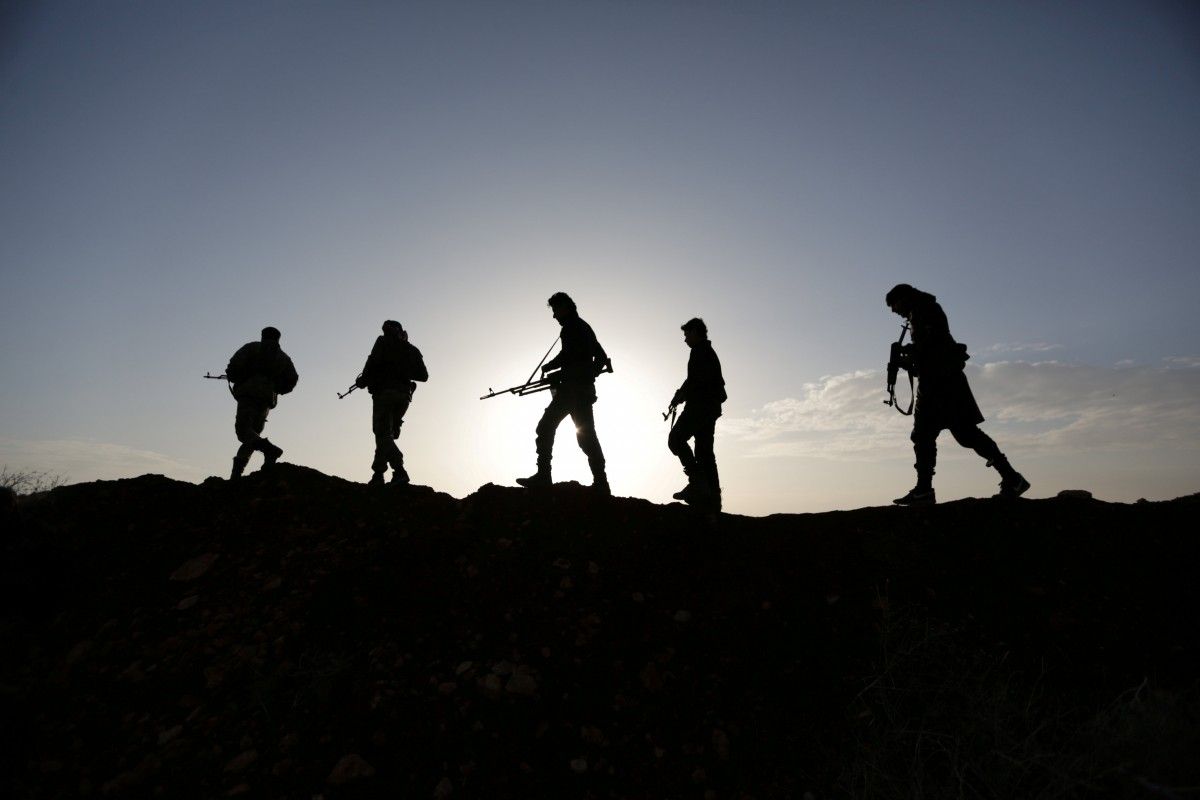 REUTERS
The U.S.-led coalition in Syria killed more than 100 fighters supporting the Assad regime on Wednesday after its headquarters suffered an "unprovoked attack," according to a statement from Operation Inherent Resolve and Reuters.
Syrian regime forces launched a coordinated attack that included about 500 regime troops, 122mm howitzers, tanks and multiple launch rocket systems on the U.S.-backed SDF headquarters in Deir al-Zor province approximately five miles east of the Euphrates River, a de-confliction line between the coalition and Russian and Syrian forces, according to Business Insider.
Regime forces operating Russian-made T-55 and T-72 tanks fired 20-30 tank rounds within 500 feet of the SDF base, where some U.S. troops were embedded, according to Pentagon press secretary Dana W. White.
One SDF fighter was injured, Reuters reported.
The U.S.-led coalition responded with "AC-130 gunships, F-15s, F-22s, Army Apache helicopter gunships and Marine Corps artillery," according to Fox News reporter Lucas Tomlinson. 
CNN also reported that HIMARS and MQ-9 drones were used in the attack.
"Along with ground based fire support, these aircraft released multiple precision fire munitions and conducted strafing runs against the aggressor force, stopping their advance and destroying multiple artillery pieces and tanks,"  a spokesperson for U.S. Air Forces CENTCOM, told CNN.
"You read that right: Russian forces (most likely mercenaries/Wagner division guys who also fought in Ukraine) were killed. Just another reminder that World War III has not broken out as a result," Michael Weiss, CNN's national security analyst, wrote on Twitter.
As UNIAN reported earlier, the SBU Security Service of Ukraine has video evidence proving participation of the Russian Private Military Company called Wagner in the capture of the Luhansk airport in 2014.
According to the Fontanka publication, Russian national Oleksiy Milchakov, who headed the "Rusich" neo-Nazi battalion fighting alongside Donbas militants, is now also hired by Wagner and deployed in Syria.
In October 2017, the Ukrainian delegation has presented in the European Parliament in Brussels a report on crimes committed by Russia's private military companies (PMCs) in Donbas and Syria to the European Parliament in Brussels.