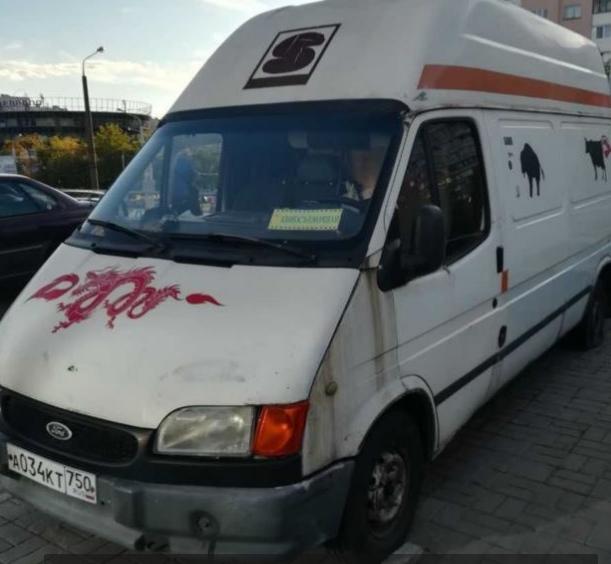 RFE/RL's Belarusian service
Belarus law enforcers have revealed behind the Riga mall in Minsk a van with Russian license plates, "fully loaded with ammunition, tents, and paraphernalia for street riots".
That's according to the government-run TV channel ANT, seen by RFE/RL's Belarusian service.
The find comes as the capital city is seeing the third day of street protests against what many activists believe was rigged results of the latest presidential vote that completed on Sunday, August 9.
The discovery may testify to an "external attempt to undermine Belarus".
Read alsoTikhanovskaya's campaign HQ offers Lukashenko to discuss "peaceful transfer of power to the people"
The van's owner, a Russian movie producer Valdemar Grubov, later found by RFE/RL's Belarusian service claimed the vehicle had long been parked there after the pandemic-related lockdown suspended the shooting of a TV series, and that the items stored in it are movie props.
Belarus protests: background
On August 9, Belarus held a presidential election.
The Central Election Commission has released exit polls, claiming 80.23% of voters supported the incumbent Alexander Lukashenko, 9.9% - Svetlana Tikhanovskaya, 1.68% - Anna Kanopatskaya, 1.13% - Sergei Cherechnya, and 1.04% - Andrey Dmitriev. Some 6.02% voted against all candidates.
On the evening of August 9, thousands of Belarusian citizens took to the streets to protests what they believe are rigged voting results. Clashes with security officials ensued shortly. In Minsk, law enforcement officers fired rubber bullets at protesters.
On August 10, protests resumed. Government forces in Minsk once again fired rubber bullets on protesters. Activists changed tactics, gathering in groups in different locations across the city simultaneously, rather than flocking to a single site. This was done in order to mislead riot police and security officials who were preparing for large-scale rallies in the city center.
Apart from the protesters on foot, motorists played a special role by blocking the main roads, thus getting on the way of riot police vehicles.
Read alsoEU working on response to repressions, arrests in Belarus
The Ministry of Internal Affairs has confirmed that one of the protesters had died.
Presidential candidate Tikhanovskaya refused to take helm of street protests. According to her press secretary, the politician was unwilling to end up behind bars like her husband, Sergei Tikhanovsky.